HCU On The GO
HCU Mobile App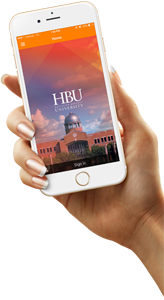 Ellucian Go is the new HCU mobile app that will help you stay connected. You will have access to great features that share the information you need on the go.
FEATURES
Access course information and grades
Access HCU Social Media
View Student Balance
Registration Notifications
Class Registration
Links to key University Sites and Services

University Store
Campus Dining
Campus Map
Moody Library
Directory
Athletics
Police
MyPrint
The Pillars
Weather
SUPPORTED DEVICES
Apple devices running iOS 5.0 or later
Android devices running system version 2.3.0 or later
Kindle Fire devices running system version 6.3 or later
QUESTIONS?
Q: How do I sign in?
A: You will sign in by using your HuskyNet User ID Credentials (H Number and PIN).
Q: How much is the app?
A: The app is free and available on iTunes, Google Play Store, and Amazon (Kindle Fire).
Q: I can't see my grades. What should I do?
A: If you are unable to view your grades it may be due to a hold on your account. Please review 'Notifications' for registration holds.
Q: In registration, how do I select a course?
A: You can use the Search feature by selecting the term and entering the course rubric or rubric and course number, for example, BIOL/CHRI, CISM or BIOL 1414. Select the course from the Search results and "Add to Cart". Then go to the "Cart" and select your new course and "Register". You will be asked for your PIN and select "OK".
Q: How do I view courses that I am currently registered for?
A: In Registration, select the "Registered" option to view your courses for the current term.
Q: I tried to register but I received an error stating that I am ineligible for registration. What should I do?
A: Check for registration holds by going to the "Notifications" section.
Q: What will I find in Notifications?
A: Notifications is where you will be able to view any registration related holds on your student record. All registration holds must be cleared with the appropriate office prior to registration.
Q: What does Student Balance view tell me?
A: Student Balance is where you can view your current balance along with any recent payments that have been made.
Need Help?
If you are experiencing any problems with the app, please contact the HCU ITS helpdesk by going to helpdesk.hbu.eduand creating a self-service ticket.