Hello world! My name is Alex Elizondo and I am a Sophomore here at HCU. I am currently a Christianity major minoring in Cinema and New Media Arts and Spanish. I come from a family of 6, with two loving parents and three sisters. (Lord help me!) We also just recently got a pup last year named Theo who has become part of the family as well. I'm thankful for this support system that made my transition into college and my time here so much easier.
People often ask me, "How is college? Are you liking HCU?" My first thought is to just say the usual "Good." and keep it at that. But my journey here has been so impactful that I cannot leave it at that. So far, my time here has been absolutely amazing, and I would never change any of it for the world. Very quickly this campus has become like my home away from home, and I honestly could not imagine myself at any other school.
I have found a community that I can share my whole life with entirely. They are people I can study with, hang out with, laugh with, cry with, and everything else that life brings. Having this has shown me the importance of the fact that we as Christians are not meant to live this life alone. It is hard. Too hard for us to try and make it on our own. There were many times where I was overwhelmed and just wanted to give up on everything, but every time there were people there to lift me up to carry on. I would've lost my mind by now had I not had great friends encouraging me to keep going.
These people are like my family, and HCU would be nothing without that: a close-knit community. For the past 2 years, God has continually shown me the importance of community, and that is something that I believe HCU excels in. I believe that a vital part of one's college experience is the community that they create. Yes, school is great and important, but without strong people and bonds present, it will be so much more difficult to enjoy your time in college. My advice to anyone going into college this upcoming fall is to get involved and find your people! So many of my best friends I made through the different opportunities there were to get involved on campus.
The Lord has continued to be faithful in allowing me so many opportunities to be involved and serve here on campus. I am known for being that person that does a little bit of everything, so I guess I took my own advice a little too well! I currently serve in leadership as a Freshman small group leader in our Baptist Student Ministry, as Chaplain in my fraternity BYX (Brothers Under Christ), as a Peer Mentor for a class of Freshmen, as a Musher on the Sled Team, and as a Husky Ambassador for Admissions. Sounds like a lot, huh? But each and every position has been a growing experience for me as leader, and they have shown me a lot about not only leadership, but myself.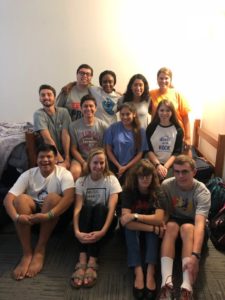 Being a leader has shown me something very important this year: As Christians, we are not called to be perfect, but to show the world how God is at work through us and how He redeems us in our brokenness. It has been so hard to accept it, but yes, I am not perfect. I do not have my life together. And that is okay. I was once told that it is okay not to be okay, and that has always stuck with me. God does not choose to use me because I am perfect. He chooses to use me because He loves me, and his perfection can be shown in my own weakness and shortcomings. I am continually renewed, encouraged, and empowered by the Lord every day. I now know that being a leader does not mean it is all about me, but rather it should be about the one who strengthens me. I don't have to be the smartest, coolest, most fun leader to make an impact. I just have to be obedient and follow where the Lord calls me, and He will set my path straight.
No matter where you go, allow the Lord to take you further than you could ever take yourself. You will never be in control of everything, so let Him take that burden for you. Even though you mess up, it is okay. Redemption has come and is coming. God has the final word, so don't write yourself off yet because of your mistakes. You are so dearly loved. The Lord has been made so much more real to me in my time at HCU, and I truly am grateful for every little thing He has placed in my path. My prayer and hope is that others can come to know him in the same way.
Thank you for your time and attention. Don't forget to come visit us at HCU and, most importantly, DAWGS UP!
As the Lord says in 2 Corinthians 12:9, "My grace is sufficient for you, for my power is perfected in your weakness." Be encouraged by God's Word friends! -Alex Elizondo, Class of 2021