Jobs with Instructional Design
For MS in Learning, Technology, and Design Graduates
An instructional design degree will help you develop critical thinking, creativity, communication, and collaboration skills that will prepare you to design instructional solutions within a variety of professional settings. These skills make Master of Science in Learning, Technology, and Design graduates marketable across a wide range of fields.
Common careers in instructional design include: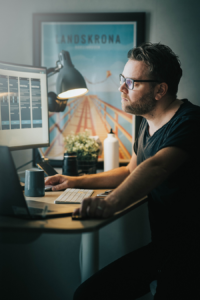 Chief Academic Officer
Chief Learning Officer
Consultant
Course Design Manager
Curriculum Developer
Director of Center for Teaching and Learning
Director of Instructional Technology
Director of Training & Development
Distance Education Specialist
EdTech Curriculum Developer
Education Program Manager
Educator
Employee Trainer
Lead or Senior Instructional Designer
Learning Development Manager
Professor
Senior Researcher and Designer
Teaching Faculty Within the Field (Instructional Design, Instructional Technology, eLearning, Adult Education, Curriculum and Instruction)
Technology Innovation Specialist
Training Manager
Instructional Design Careers and Demand
According to the Bureau of Labor Statistics, graduates from the Master of Science in Learning, Technology, and Design program at HCU would have the skills necessary for jobs as training and development specialists, among many other career possibilities.  Training and development specialists plan and administer programs that improve the skills and knowledge of their employees.  The job outlook for this career field is growing faster than average.
HCU's Master of Science in Learning, Technology, and Design degree prepares students for success and satisfaction in jobs in instructional design by providing students the opportunity to develop an in-depth understanding of quality course design in an increasingly digital age.
What You Can Do with an MS in Learning, Technology, and Design?
In addition to preparing you for success in the job market, the knowledge and skills you develop in the Master of Science in Learning, Technology, and Design Program can also prepare you for doctoral studies in educational leadership, curriculum and instruction, instructional technology, adult learning, and, of course, instructional design!
For more information or to request program information, please contact our program coordinator, Dr. Katie Alaniz, at salaniz@hbu.edu.
You may be also interested to learn more about our affordable tuition.