Bachelor of Business Administration in Management Online
About the BBA Management Degree Online
Study Management – Gain a Competitive Edge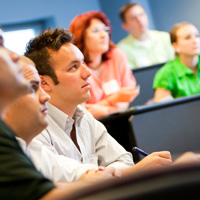 In today's increasingly competitive business environment, employers need creative and skilled employees who show leadership abilities and global vision. The Bachelor of Business Administration in Management degree at HCU provides students with an outstanding educational experience aimed at developing broad skills, as well as technical competence, to gain a competitive edge. Our BBA degree produces graduates who have leadership ability, critical-thinking skills, team-building knowledge, and an ethical decision-making value system.
BBA students have the opportunity to select one of 3 following majors:
Management
Marketing
International Business
The online BBA degree program emphasizes practice as well as theory, providing students with exceptionally qualified and experienced full-time faculty that bring extensive academic qualifications, as well as practical business experience to the classroom. They are accessible to our students and advise them throughout the students' academic careers.
Degree Plan: BBA in Management

Bachelor of Business Administration in Management Degree Plan
Admission Requirements
Students are required to submit transcripts showing they achieved a high school general or advanced diploma or a GED with passing scores. (Waived if student has 32 credit hours or more of transfer credit)
Students must submit all college transcripts from any previously attended institutions. Official transcripts should be sent directly from the college or university that awarded your bachelor's degree to be considered official. Transcripts from any additional coursework since that time should also be submitted including postbaccalaureate or graduate-level transcripts.
You may be accepted with unofficial transcripts by emailing copies to OnlineVerification@HBU.edu; however, you must submit the official transcripts in a sealed envelope from the school or through an approved electronic service by your second semester.
Mailing Address
Houston Christian University
Attention: Online Admissions Verification
7502 Fondren Road
Houston, TX 77074-3298