Freshman Village
Cost: $2,875 Per Semester in MRC and WRC*
Cost: $3,275 Per Semester in Mest*
Welcome to Freshman Village at HCU! As an incoming freshman at HCU, there's no better opportunity to get plugged in with your community than living on campus. Each fall, a new class of HCU freshmen settle into our Freshman Village residence halls to build lasting friendships and experience the fun of on-campus living. We can't wait to welcome you home to your new residence hall!
*This listed cost reflects 2023-2024 housing rates and does not include the cost of a meal plan. Learn more about meal plans online.

Layout and Floor Plans
The Men and Women's Residence Colleges share a similar floor plan. In addition to accommodations within each suite, students have access to a shared lobby area, community kitchen, and laundry facilities in each residence college. The MEST Residence College is an extension of the Women's Residence College and offers additional community recreation/study space with smaller suites.

Take a Virtual Tour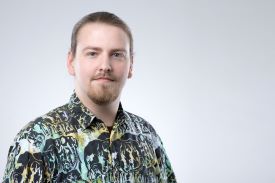 Jacob Elliott
Area Coordinator | Freshmen Village
Resident Director | Men's Residence College
Molly Urick
Resident Director | Women's Residence College