What is Cybersecurity?
Cybersecurity Engineering involves creating and managing hardware, software, and security policies for the protection of systems, networks, and data.
Cyber engineers incorporate electrical engineering and computer science to understand cyberspace. They use skills developed in digital forensics, security policy and network defense to perform cybersecurity tasks, as well as work on engineering hardware and software. "Cyber engineers design secure systems at the interface of operational technology and information technology," says Dr. Stan Napper, HCU dean of the College of Science and Engineering and professor of Engineering.
The information website Quora also defines cyber engineering as the fusion of computer science, electrical engineering and mathematics, with the integration of the humanities.
HCU's Cyber Engineering program provides an engineering-based approach to cybersecurity security education.
A Needed Field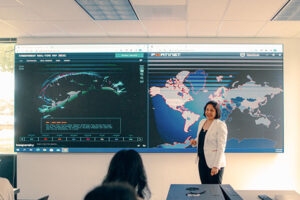 Cyber engineering is closely linked to preventing and/or resolving cybersecurity issues. Says Dean Napper, "Cyber engineering has been overlooked, or underdeveloped, in addressing cybersecurity risks and vulnerabilities among industrial control systems and other Internet of Things networks and devices. Cybersecurity has a software/data/information component and may have, but most likely does not have, a hardware/device component. Cyber engineers apply probability, statistics and cryptographic topics, specialized math and engineering topics. They analyze and design complex devices which are likely to have hardware, software and human components."
Cybrary reports that day-to-day tasks and activities will vary for cybersecurity engineers, depending on where they work and the types of systems and networks they are responsible for protecting. But some typical daily tasks performed by cybersecurity engineers may include:
Ensuring that appropriate security controls are consistently in place to protect the organizations digital files and infrastructure
Planning, implementing, managing, monitoring and upgrading security measures for the protections of systems, networks and data
Various administrative tasks, reporting and communication with other departments
Performing penetration testing and identifying system and network vulnerabilities
What Do You Study in Cyber Engineering and Cybersecurity?
HCU students in the Cyber Engineering Program enjoy learning in context, working together with classmates and professors to design and build real control systems which function like those that are commercially available, or industrially applicable.
In the first two years of the Cyber Engineering Program at HCU, Cyber Engineering majors develop fundamental knowledge and skills in mathematics (e.g. calculus, linear algebra, cryptography), physics, basic engineering and computer programming. And Cyber Engineering majors get the opportunity to implement and demonstrate those skills in a sequence of projects.
In the second year, additional concepts in electrical circuits and electronics, microprocessors and computer systems help prepare Cyber Engineering students for more advanced subjects and projects in the upper levels. Cyber Engineering majors learn from their professors and engage with industry partners. Professors in the College of Engineering act as advisors and mentors, helping students in Cyber Engineering, as well as in Computer Science and Electrical Engineering, to make wise course and curriculum decisions, as well as sound career decisions.
Cyber Engineering majors learn important concepts in computer networks, cybersecurity operations and control systems.
In junior and senior years, Cyber Engineering majors learn important concepts in computer networks, cybersecurity operations, and control systems. Students in the Cyber Engineering Program may choose from advanced elective courses in digital forensics and cyber crime, wireless and mobile security, reverse engineering, cryptography, distributed and cloud computing, data analytics and blockchain. Every student will complete at least one internship before graduation, and every student will complete a major industry-driven project during the senior year.
The Securing America's Future through Engineering (SAFE) Lab courses provide a solid foundation for students in all degree programs in the HCU College of Engineering. The SAFE Lab courses are taught in specially designed classrooms with tables seating four students with ready-to-use fabrication equipment, including soldering irons and other tools. For Cyber Engineering majors, and all students in the College, these real-world applications build confidence, promote retention of knowledge and provide a much-needed, hands-on context for students living in our digital age.
Why Study Cyber Engineering?
The world needs 2 million cybersecurity professionals to assist every small, medium and large business, which must deal with cybersecurity issues. 
How to get into cybersecurity? Earning a bachelor's degree in Cyber Engineering at HCU is an important first step to get a solid foundation in cybersecurity basics.
Cyber Engineering graduates will be in high demand for jobs nationwide. As of November 2018, the average annual pay for the cybersecurity jobs category in the United States is $96,185 a year, reports ZipRecruiter. While ZipRecruiter sees annual salaries as high as $181,500 and as low as $11,000, the majority of salaries within the cybersecurity jobs category currently ranges between $60,000 (25th percentile) to $107,000 (75th percentile) across the United States.
Cyber Engineering graduates will work in security operations, process control, network security, threat reduction and incident response, and other cybersecurity-related positions. Some graduates will work to design the next generation of connected devices, so that better cybersecurity measures can be built into the devices during design and production, before utilization and operation begins. Explore more about salaries and job outlook for Cyber Engineering graduates.