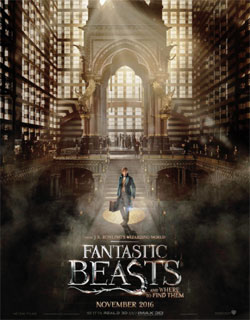 I only had time for one movie on the November 18 weekend and there was never a question that I would skip Fantastic Beasts and Where to Find Them.  The story might not make much sense to anyone not well-versed in the lore of Harry Potter, but it can stand alone.  It is the first of five prequels to the Harry Potter saga; this one is set in New York of the late 1920s, but I have no idea where the sequel to the prequel will take place.
Eddie Redmayne plays the typical bumbling, well-intentioned wizard so common in J. K. Rowling's novels; he attracted considerable attention for playing Stephen Hawking two years ago, but he and Colin Ferrell were the only cast members I recognized.  Whether Ferrell's villainous "Mr. Graves" will appear in the sequels is a good question.
There are several unresolved plot threads, but that is how producers can justify sequels.  It doesn't hurt if you are not up on the Potter mythos; there is one reference to Dumbledore and a few more to Hogwarts.  I won't be surprised if Tom Riddle makes an appearance near the end of the series.
The special effects are the film's major appeal; most of the "critters" in our wizard's magic suitcase are well done, particularly in 3-D.  I will certainly see the film again, but I will also buy the script as a Christmas present for myself to see if I can find any hints to those unresolved threads.