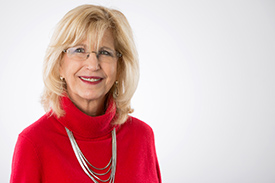 Dr. Rhonda Furr, professor of music, recently had a fifth organ work published by Fred Bock Music Company. Celebration on Joyful, Joyful, We Adore Thee, an organ composition based on Beethoven's tune, ODE TO JOY, has been published by Fred Bock Music.
Although Celebration on Hymn to Joy was published in 2016, Dr. Furr actually wrote this organ composition in 1997 in honor of Dr. E.D. Hodo's 10th anniversary as president of HBU.  She wanted to compose a work for organ based on a favorite hymn of Dr. Hodo and asked his wife, Sadie, to covertly learn the names of his five favorite hymns.  Joyful, Joyful, We Adore Thee was near the top of his list, and Dr. Furr knew Beethoven's famous melody could be crafted into an inspirational organ solo.  The hymn text is an acclamation of praise and declares thankfulness for God's boundless love.  She used the hymn stanzas as a guide for expressing "joy" in each section of the organ composition.  The work was premiered at a celebration in Dr. Hodo's honor at Second Baptist Church on April 22, 1997.  At his wife's request, Dr. Furr played this organ solo at Dr. Hodo's memorial service at HBU on November 11, 2016.
Fred Bock Music Company has been in business since 1970 and is a major publisher of sacred and secular music forvoice, choir, children's choirs, keyboard and instrumental solos, and handbell compositions.  Since Dr. Hodo's dream was to have a beautiful chapel with a magnificent pipe organ at HBU, Dr. Furr asked the publisher if they would consider placing a photo of HBU's Létourneau pipe organ on the cover. HBU photographer Michael Tims provided the dramatic photograph.
The exquisite organ in Belin Chapel was made possible by a generous gift from Jim and Sherry Smith.  In celebration of the installation of the organ in 2009, Dr. Furr created an organ work based on Holy, Holy, Holy, a favorite hymn of President Robert Sloan. This composition was published by Fred Bock Music with a photo of the HBU organ keyboard on its cover.  Other published works include Be Thou My Vision, O God, Our Help in Ages Past and Rejoice. Dr. Furr is honored that church organists around the country are playing these hymn-inspired organ compositions to celebrate the glory of God!