A few days ago I congratulated myself on skipping a winter cold; of course, I then proceeded to come down with a doozy of a spring cold which effectively grounded me for four days.  To put it nicely, my movie plans for the Easter weekend were dashed to smithereens.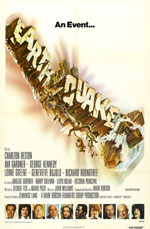 I did manage to watch a few movies on my faithful DVD player; my consolations included two of the original "shake and bake" disaster movies, Airport and Earthquake.  Those hold up better than I had expected; it had to have been three decades or more since I had seen either.
I also watched some episodes from the early 1950s series Topper.  My family acquired its first television set in 1956 and syndicated reruns of that comedy were very popular.  I must confess that they did not seem nearly so funny in 2017.
I ended my weekend with the DVD version of Risen and I found it as interesting as when I first saw it on a big screen.
If I am not as contagious this coming weekend, I will start playing catch-up.