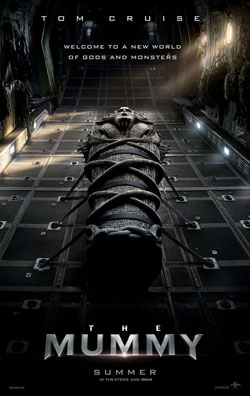 I confess that I was unable to get wrapped up by the latest incarnation of The Mummy.  I did enjoy the new version, but the plot is more than a trifle moldy and the cast is less than perfect.
This version is the first part of a large project in which Universal Pictures intends to reboot all of its classic monster movies in a series entitled "Dark Universe."  I understand that the next film in the project will be Bride of Frankenstein; I am not as alarmed by that news as I am by the news that at least one sequel to The Mummy  is planned.
Tom Cruise is seriously miscast as the idiot who reawakens Ahmenet, the evil would-be Pharaoh who murders most of the Egyptian royal family and, for her pains, is buried in a massive tomb complex built in the area we know as Iraq.  The idea that the ancient Assyrians, or whoever was ruling Mesopotamia at the time, seem not to have noticed such a building stretches my overworked credulity beyond the breaking point.
Our villainous mummy probably looks familiar; if you saw the first Kingsman or the latest Star Wars movie, you will recognize Sofia Boutella; her Amenet is even more murderous than Imhotep, the living mummy from the 1990s; the special effects crews get a vigorous workout in this film.  (If you haven't seen the two tongue-in-cheek Brendan Fraser – Rachel Weiss films, let me encourage you to catch up with them, but you can safely omit the third film from which Weiss was missing; of course, the original Boris Karloff version of the character still has some charm, but  you can safely skip the awful Lon Cheney sequels.)
Russell Crowe is another revival of a Universal monster, Dr. Henry Jekyll; he literally chews up the scenery when his alter ego gets out of control. There are visual allusions to the soon-to-be revivals:  the Creature from the Black Lagoon, Dracula, Frankenstein, and perhaps more.  There is also a good allusion to the Fraser-Weiss films, but I doubt that Amenet and Imhotep will go on a date in a sequel.
A neglected mummy movie from the 1970s is Charlton Heston's The Awakening; it was an adaptation of Brank Stoker's short story, "The Jewel of Seven Stars."  It was far from perfect, but it does have its moments.  An Arthur Conan Doyle short story, "Lot 49," has influenced several films but has never been adapted.