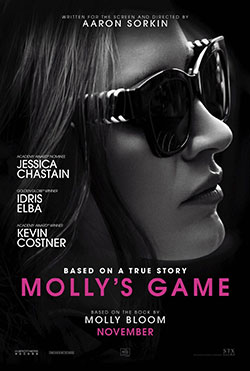 The New Year is not off to a good start. Some of the new releases seem intended to keep the audience away from the theaters. On January 6, I saw "Molly's Game," a mediocre film that some are touting as Oscar-worthy.
I confess that I have very little knowledge of high-stakes gambling; therefore, I did not understand much of the action in "Molly's Game." The film supposedly traces the career of a would-be Olympic skier who becomes the head of a very illegal gambling enterprise. Molly Bloom never emerges as a remotely sympathetic character despite the acting skills of Jessica Chastain.
Chastain has very little to work with, but I have seen suggestions that she receive an Oscar nomination. The only actor who deserves any mention is Kevin Costner who plays Molly Bloom's long-suffering father.
My alternative choice was "Hostiles," a Western with Christian Bale and Wes Stude. I should have chosen that film. My highest priorities, though, are "The Shape of Water" and "The Post."