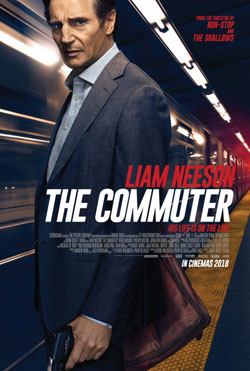 After two days of cabin fever brought on by the recent inclement weather, I was more than ready for a cinematic treat. I only had time for one film, and I wound up with "The Commuter," Liam Neeson's newest thriller. It was diverting, but after it was over, I began to realize how many holes in the logic there were.
Trains have long been a favorite setting for Hollywood: "Strangers on a Train," "The Lady Vanishes," "Murder on the Orient Express," "Some Like It Hot," "Last Train from Gun Hill," "Breakheart Pass," "The Girl on the Train," "Runaway Train," "Doctor Zhivago," "The 15:17 to Paris," etc., etc.
Neeson is competent, as always; he plays an aging insurance salesman who used to be a policeman. His economic situation is more than desperate, and a chance at some easy money tempts him beyond discretion. His daily commute turns into a nightmare as he tries to find a co-traveler whose name or description he does not know. Corpses begin to accumulate at an alarming rate and the train continues to roar through suburbia.
Some scenes are incredibly claustrophobic, but Neeson finally perseveres. I have to admit that I spotted the clue to the mysterious traveler's identity almost immediately. Pay close attention to Neeson's son's reading list.
I hope this is not the beginning of another franchise; I may be paranoid, but I think I spotted a possible hint of a sequel.
As a thriller, this is a good film, but you could easily wait for the DVD.