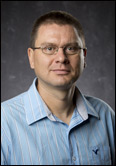 Former HBU graduate student Kason Vercher together with Dr. Alexandru Spatariu have conducted research and published an article on aspects of traumatic event centrality. The information of the publication is as follows: Vercher, K., & Spatariu, A. (2018). "The Effects of Personal Religious and Existential Well-Being on Traumatic Event Centrality." Journal of Applied Christian Counseling, 3(1), 4-10.
Dr. Spatariu has reviewed numerous research papers for the American Education Association 2018 Annual Meeting. He recently joined a review team for journal articles as well for Computers and Education, An International Journal published by Elsevier.
Additionally Dr. Spatariu completed the review of a statistics book for 2019 Statistics in Context by Barbara Blatchley for Oxford University Press.