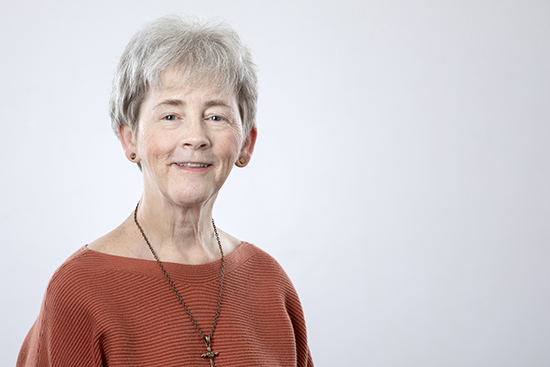 On October 8, 2018, Dr. Sara Frear, associate professor of History, gave a presentation at a meeting of HBU's American Museum Society in Houston. The AMS promotes public interest in the development of the cultural and educational aspects of HBU's Museum of American Architecture and Decorative Arts. Dr. Frear opened by thanking the AMS members for their support, noting that her students benefited from the cultural resources of all of HBU's museums, and a growing number were choosing to participate in HBU's annual "Piece of the Past" museum essay contest.
Dr. Frear was asked to speak on the topic of "first ladies" of the Early National Era (the term "first lady" not used until the mid-1800s). Her talk, titled, "Republican Panache: How Dolley Madison Remodeled American Politics," compared the personal and social styles of the first three presidential wives with an emphasis on Mrs. Madison's uniquely colorful and appealing style. First ladies, Frear noted, played an important role in the creation of a distinctive American culture suitable to its status as the first nation to be founded on Enlightenment-era principles of representative republicanism. In addition, presidential wives understood that they wielded political influence in the highly partisan atmosphere of the young nation.
The first three "president's ladies," Martha Washington, Abigail Adams, and Dolley Madison, all struck a careful balance between the elegance considered appropriate to their husbands' high office, and the principle of "Republican plainness," rooted in the American Revolution, that rejected luxury as symptomatic of European decadence and ostentation. The widowed third president, Thomas Jefferson, however, emphasized plainness and informality to such an extent that when his Secretary of State James Madison took office the American public was ready to welcome his flamboyant wife who, unlike her predecessors, embraced brilliant colors, rich fabrics, and low-cut Empire-style dresses. Dubbed the "Republican Queen," Dolley nevertheless displayed a keen awareness of her countrymen's distaste for extravagance. She often wore pearls, but never the diamonds that, in the American mind, symbolized European aristocracy. She made feathered turbans her trademark, but eschewed tiaras. At the same time, her good humor and talent for winning over even her husband's enemies made her a peace-maker in an era of harsh political feuding. Dolley also democratized the social life of the White House, opening her popular "Wednesday Night" receptions to Americans of all ranks. Finally, during the War of 1812, her courage and devotion to country in the face of personal danger won her national admiration.
In the end, Dr. Frear argued, it was not merely Dolley's exuberant fashions but her genuine personal warmth that brought a new vibrancy to the political culture of the young American republic. She understood her own appeal in this light. When her friend Henry Clay commented, "Everybody loves Mrs. Madison," she immediately responded, "That's because Mrs. Madison loves everybody."