The Memorial Day weekend was another washout. I did give some thought to the live-action version of "Aladdin," but the trailers I saw did not impress me in the least. I suspect the film is an unnecessary gilding of the original lily. I have great respect for Will Smith, but there is no way he could ever outdo Robin Williams as the genie.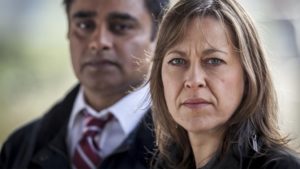 One film that I would like to have seen, "Trial by Fire," was only playing in one theater, far out of my orbit. I remember vividly the trial and execution of a Corsicana man accused of burning his children to death. I also remember an episode of "Law and Order: Special Victims Unit" which argued that the evidence was unreliable, so I am not surprised by the director's interpretation of events. If it goes into wide release, I will certainly try to see the film.
To console myself, I dug out my DVDs of the first two seasons of PBS's "Unforgotten." The scripts are intricate and the cast is excellent. The series is much better than the old CBS program, "Cold Case." Yes, I have a weakness for this sort of puzzle.
I don't anticipate much of anything for the June 1 weekend, but June 8 may be much better.