The June 8 weekend was a financial disaster; roadwork on the Southwest Freeway forced my cab driver to find a different route to the Edwards theater on Wesleyan; that added $15 one-way to my transportation costs. Therefore, I was not in a very receptive mood for "Dark Phoenix"; it turned out to be the weakest of all the "X-Men" films.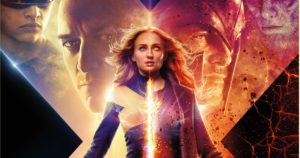 The story of the Dark Phoenix had already been used in one of the Patrick Stewart-Ian McKellen series about misunderstood mutants; this version belongs with the James McAvoy-Michael Fassbender series. Neither version comes close to the original comic book version by Chris Claremont and John Byrne. The ending is weak and hints at a sequel, to which I can only say "no."
The special effects are good, but the cast is weak, particularly those playing Cyclops and the Phoenix. Some shots are careless; in one scene, James McAvoy's wig is askew.
I should have gone to the River Oaks theater to see "All Is True," Kenneth Branagh's latest venture into Shakespeare. The cast includes Judi Dench and Ian McKellen. Since the film probably will not go into wide distribution, I will probably have to wait for the DVD.
The thought of the work on the Southwest Freeway lasting until sometime in 2020 fills me with unease and disquietude. (I need to replenish my supply of polysyllabic words; the stock seems to be running low.)