I used part of the July 27 weekend to see "Once upon a Time … in Hollywood" and I have not yet recovered. Even though this is one of Quentin Tarantino's milder productions, it is still shockingly brutal. I have to admit that I did not like the late '60s and early '70s; revisiting those memories was not a pleasant exercise in nostalgia.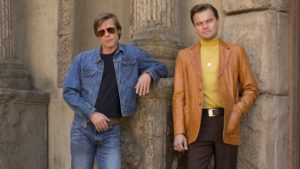 During the recent observances of the 50th anniversary of Apollo 11's landing on the moon, few seem to have remembered that this is also the anniversary of the Manson murders in Los Angeles. The moon landing showed us at our best while the Manson murders showed how far we had declined.
The film is well-done and has several virtues. The cast is good; Leonardo diCaprio and Brad Pitt are very good, but Margot Robbie steals the show as Sharon Tate. Dakota Fanning is good as the would-be assassin, Squeaky Fromme. I understand that Mike Moh's depiction of Bruce Lee is generating negative comments from those who knew Lee; I found his performance rather grating, but I can't speak to its validity.
There is violence aplenty, but one of the most chilling scenes has to be the one involving Brad Pitt's character's visit to the Warren Spahn Ranch where he encounters Charles Manson's harem. They are so menacing not even the Furies and Harpies would care to clash with them. That scene foreshadows nicely the carnage to come.
I don't think Tarantino knows how to make a film without violence. The final scenes are a major rewriting of history and they may be too strong for some. This is a major film, but it is not for the very young or for the squeamish. I dread to say it, but there is room for a sequel; Tarantino's version of the Watergate era might be interesting.
I am not sure the August 3 weekend will provide anything that will draw me out of my lair; I probably need to give my jangled nerves time to recover.