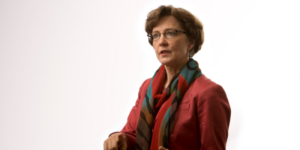 During the 2018-19 school year, Nancy Pearcey, professor of Apologetics and scholar-in-residence, spoke at 17 invited conferences and events. Most of these events involved giving multiple presentations.
Many of the invitations focused on Pearcey's most recent book, "Love Thy Body: Answering Hard Questions about Life and Sexuality." In addition, she was asked to present on her previous books, such as "Total Truth," "Saving Leonardo," and "Finding Truth."
The audiences were quite diverse, ranging from HBU's Apologetics Day in The Woodlands to Yongsan International School of Seoul, South Korea; Congressional staffers in the Capitol Building in Washington, DC; The Family Research Council, Washington, DC; and the Christian Medical and Dental Association national convention.
Pearcey also was interviewed on more than a dozen radio shows, podcasts, and print media. In addition, she appeared on "Huckabee," the TV talk show hosted by former Governor Mike Huckabee, to discuss "Love Thy Body." She is grateful for the opportunity to represent HBU throughout the country and around the world.

Nancy Pearcey 2018-2019 speaking engagements:
Areopagus Forum
The Areopagus, Atlanta, Georgia, May 2018
Lamplighter Guild
Lamplighter Ministries, Mount Morris, New York, July 2018
Total Truth Conference
First Presbyterian Church of Augusta, Augusta, Georgia, July 2018
McKnight Lecture Series
First Presbyterian Church of Augusta, Augusta, Georgia, July 2018
Faculty development
Yongsan International School of Seoul, Seoul, South Korea, August 2018
Engaging the Culture Conference
Cornerstone Presbyterian Church, Columbia, South Carolina, September 2018
Congressional staffers in the Capitol Building
Faith & Law, Washington, DC, October 2018
FRC Speaker Series
The Family Research Council, Washington, DC, October 2018
Washington, DC area pastors event
Trinity Forum, Washington, DC, October 2018
Touchstone Conference
The Fellowship of St. James, Chicago, Illinois, October 2018
National Disciple-Making Symposium
The Bonhoeffer Project, Nashville, Tennessee, October 2018
Coffeehouse Theology
Brentwood Baptist Church, Nashville, Tennessee, October 2018
[un]Apologetic Conference
Baptist General Convention of Texas, Lubbock, Texas, November 2018
Mars Hill Lecture
Geneva School of Boerne, Boerne, Texas, January 2019
Ambassador Training
Faith Beyond Belief, Calgary, Alberta, Canada, February 2019
HBU Apologetics Conference
Houston Baptist University, The Woodlands, February 2019
National Convention
Christian Medical and Dental Association, Ridgecrest, North Carolina, May 2019