Again, heat and roadwork on the Southwest Freeway grounded me on the August 10 weekend. I am not sure I would have ventured  out even if there had been something interesting in the theaters. That meant that, once again, I had to dig into my stash of DVDs.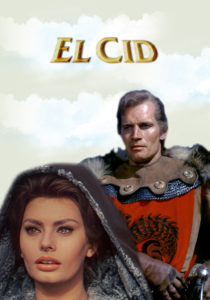 I was in the mood for something heroic, so I started with the 1962 epic, "El Cid." Spanish was one of my undergraduate majors and I had read the original poem a semester earlier. I have always thought the film was underrated and probably the best film Samuel F. Bronston ever produced. I also think Charlton Heston's performance was better than in "Ben-Hur," but several people have disagreed with me about that over the years. (My DVD is of Martin Scorsese's restored version of the film.)
I should also mention that interpretations of the real Cid differ; e.g., James Burke, in "The Day the Universe Changed," described El Cid as a "bloody nuisance" who helped poison Islamic-Christian relations in Spain.
My next excursion into Hollywood's version of history was "Cromwell" with Richard Harris as Cromwell and Sir Alec Guinness as Charles I.  When I first saw the film in early 1970, it had been badly edited and it was a flop. A few years later, the complete version popped up on a local television station in Oklahoma. My appreciation of the film went up several notches. I am still struck by Guinness' subtle performance as a king clinging to his crumbling authority.
Many scenes in the film are of dubious historicity, but the collision between Oliver Cromwell and the inept Charles I had serious implications for American history. All my history professors were pro-Cromwell and anti-monarchy; the film never hesitates that Cromwell, in his zeal, was as arbitrary as Charles ever hoped to be.
I think I might brave the elements and traffic to see "Where'd You Go, Bernadette" during the August 17 weekend, but the world will not end if I have to miss it.