Houston Baptist University's Biochemistry-Molecular Biology (BCMB) students are outperforming their peers from other higher education institutions. HBU graduates have excelled in medicine, research, technology, education and energy fields.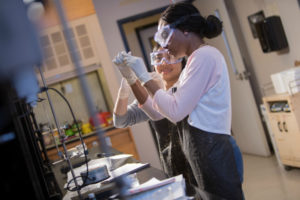 The HBU Biochemistry-Molecular Biology (BCMB) program is one of only 85 college or university programs in the nation accredited by the American Society for Biochemistry and Molecular Biology (ASBMB). In 2019, HBU BCMB students took the ASBMB exam; 50 percent of test-takers achieved certification, which is more than nine percent above the national average for performance. Of the HBU cohort, 19 percent achieved certification with distinction, which is seven percent greater than the national average.
The Major Field Test in Biology, administered by the Educational Testing Service, measures comprehension in the areas of Cell Biology, Genetics, Molecular Biology, Organismal Biology, and Population Biology/Ecology/Evolution. For the 2018-2019 cohort, the HBU BCMB majors ranked in the 88th percentile overall, and scored in the 99th percentile in Cell Biology, as well as the 98th percentile in Genetics/Molecular Biology among more than 300 colleges and universities in the nation.
---
"The BCMB program at HBU has motivated and empowered students to strive for academic excellence since it first began. We are very proud of our students, and we feel that the cumulative results for our 2018-2019 students in the areas of Cell Biology and Molecular Biology/Genetics, along with their national percentile ranking, are good indicators of what our students are able to achieve."
~Dr. Curtis Henderson, HBU Biology Professor
"As a BCMB major, I was challenged and encouraged to think critically about different subjects. This made me feel confident about knowing the breadth of information on the exit exam and about continuing my education."
~Parnia Forouzan, HBU BCMB '19; First-Year Medical Student in the UT McGovern Medical School
"The knowledge imparted by the dedicated and passionate HBU faculty helped me not only excel at the ETS exam, but has continued to aid me in my medical education."
~Hamza Bhalli, HBU BCMB '17; Third-Year Medical Student in the UT Southwestern Medical School