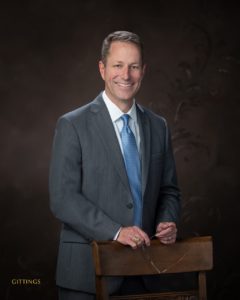 Houston Baptist University is pleased to announce that the Rev. Gregg Matte, senior pastor of Houston's First Baptist Church since 2004, will serve as chair of the HBU Board of Trustees. Matte joined the Board in 2011, and has helped lead the University through growth in enrollment and programs.
Dr. Robert Sloan, HBU president, said, "HBU has been blessed throughout her history with outstanding Board leadership. We are now privileged to have Gregg Matte as our Board chair. Gregg is one of the most outstanding Christian leaders in the United States, having begun his ministry years ago as a Bible teacher to literally thousands of university students. Now, for many years, he has distinguished himself as the pastor of the great and historic Houston's First Baptist Church. It is a great privilege to be able to work with him."
Matte said, "I am honored and thrilled to be the chair of the HBU Board of Trustees. HBU is a beacon of light and wisdom to the world. The educational opportunities offered at HBU are able to shape students' minds and hearts, resulting in a positive impact. I'm excited to be part of such a difference-making endeavor that launches lives into their purpose!"
Matte grew up in southwest Houston and responded to the Gospel by becoming a Christian as a teenager. Before leading Houston's First, Matte founded Breakaway Ministries at Texas A&M University. He is a celebrated author, husband, and father of two.
The Board leadership also includes Judy Graham as vice chair and the Rev. Omar Garcia as Board secretary.