The Curmudgeon has been hanging his head in shame for several days; for the first time in 42 years, he was unable to attend the opening performance of a Star Wars episode. At no time was he able to persuade anyone to help him sneak out of the hospital in order to see "Episode 9: The Rise of Skywalker." Even after he was freed from 'durance vile,' he didn't have the stamina to stagger into a theater. Finally, on the last weekend of the Christmas vacation, he found his way to a megaplex and caught up with the latest, and perhaps last, installment of one of the most durable movie franchises ever.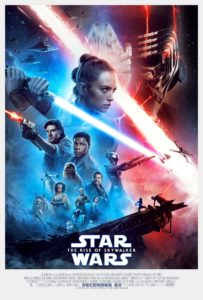 Needless to say, the Curmudgeon was impressed with the plot twists, the special effects, and the John Williams score. Even though the film was long, another 30 or 40 minutes would have been highly tolerable. There are still unanswered questions, but even the Curmudgeon had to admit to a feeling of contentment as the credits began to roll.
Had there been time, there were other films on the Curmudgeon's shopping list, particularly "1917," "Richard Jewell" and "Bombshell."
The long-suffering doctors who worked on the Curmudgeon seem pleased at the return of his vitriol levels to full strength, but the snarkyness genes haven't returned to anything resembling full functionality. Perhaps grading student essays throughout the new semester will help him recuperate; the acid test will come when it's time for the first examination.
By the way, the surgery was to replace a faulty aortic valve. The technology for the surgery was only a gleam in a cardiologist's eye when the condition was first diagnosed 20 years ago. Modern medicine is a miracle.