My plans to see "The Call of the Wild" during the weekend of February 29 came to a screeching halt when I had a fall and pulled various muscles; I also confess that the growing concern with the coronavirus is making me more than reluctant to enter a crowded theater. My enthusiasm for that film has also diminished after hearing several people commenting on the unsatisfactory computer generated images of Buck, the canine hero of the story. One person put it succinctly: "There is no life or soul behind the eyes." Since Buck is the true hero of the story, that is a serious shortcoming; it also tells me that we may have become too reliant on computer-based images. Even so, I would still like to see Harrison Ford.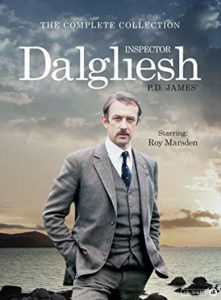 During my recover from surgery, I indulged myself with a set of DVDs of the 1980s and '90s PBS versions of the mystery novels of the late P.D. James (Adam Dalgliesh Series). James was an excellent writer and the BBC-PBS adaptations were superb and have held up quite nicely. Roy Marsden was an excellent choice to play the introspective Inspector Dalgliesh.
It is difficult to watch an entire adaptation in one sitting; when the adaptations ran as part of PBS's Mystery, the five or six episodes were 60 minutes long; in the current DVD package, there are three 90-minute episodes. Even so, they are worth the time. I particularly enjoyed revisiting "Cover Her Face" and "Devices and Desires." Now I need to reread the entire series of novels. (A caveat: there are no closed captions and it is easy to lose some lines.)
I was also pleased to see the re-release of another major Mystery series, Colin Dexter's "Inspector Morse" Series; the original books have also been republished. I think I know how I will spend part of the summer.