The Curmudgeon is still prowling through his older DVDs; for the Easter weekend, he indulged in two epics, "Quo Vadis" and "Jesus of Nazareth." Both hold up despite their years.
My memory is that "Quo Vadis" reached the hinterlands of Oklahoma in late 1951. I had been chomping at the bit for months and it was worth the wait. (One memory that sticks with me is of one of my aunts trying to insist that we leave at the intermission; she thought the film was over.) It was probably the first "epic film" I ever saw, and was, therefore, a major influence.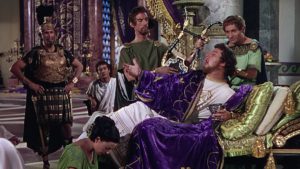 There were at least two silent versions of the film and they are not currently available on DVD. But there is a film, Cecil B. DeMille's "Sign of the Cross," that covers the same territory. (I still have to giggle when I see the name of the protagonist, Marcus Superbus, but Superbus does show up as a Roman name.) The most shocking part of that film is the scenes in the arena; it makes similar scenes in "Quo Vadis" seem tame.)
The film was made when wages were very low in post-war Italy; the younger generations raise their eyebrows at the notion that Mervyn LeRoy really had more than 16,000 extras on screen in the massive parade scene. (I have heard that the figure might have been closer to 30,000, but I have to be skeptical.)
The best part of the film is the cast, particularly the supporting cast. Peter Ustinov is still chilling in his depiction of Nero; it is one of his most subtle performances. Leo Genn is also superb as Petronius; his verbal put-downs of the uncomprehending Nero are classic. Robert Taylor and Deborah Kerr were also good, but Ustinov and Genn stole the show.
I was thunderstruck when I discovered that the Holdenville Public Library did not own the original novel. I had to wait two years to finish grade school; I was in seventh heaven when I found it in the junior high school library (along with "The Robe" and "The Last Days of Pompeii."
I will jabber about Franco Zeffirelli's "Jesus of Nazareth" next week.