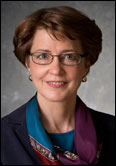 Nancy Pearcey, professor of Apologetics and Scholar-in-Residence, spoke at 12 invited conferences and events in 2019. Most events involved giving multiple presentations, including presenting on the themes of "Love Thy Body." These included speaking at Second Baptist Church in Houston, the "[un]Apologetic Conference" hosted by the Baptist General Convention of Texas, and the "Mission of God Conference" in Toronto, Canada.
Pearcey published seven articles in 2019, including in national mainstream publications such as The Federalist and American Thinker, as well as in national Christian publications such as James Dobson's Family Talk and Decision Magazine. She also appeared on several podcasts and radio shows.
In 2019, "Love Thy Body" was translated into Spanish and German, and translations are currently in process for Portuguese, Italian and Latvian. In addition, "Saving Leonardo" is currently being translated into Portuguese, and "Finding Truth" is being translated into Arabic. Prof. Pearcey's books have been translated into eight languages.
Below is a complete list of 2019 speaking engagements:
Mars Hill Lecture
Geneva School of Boerne, Boerne, Texas (January 2019)
Ambassador Training
Faith Beyond Belief, Calgary, Alberta, Canada (February 2019)
"By Design" Series of Church Services
Centre Street Church, Calgary, Canada (February 2019)
HBU Apologetics Conference
Houston Baptist University, The Woodlands, Texas (February 2019)
National Convention
Christian Medical and Dental Association, Ridgecrest, North Carolina (May 2019)
Mission of God Conference
Ezra Institute for Contemporary Christianity, Toronto area, Canada, (June 2019)
Faculty Summer Institute
Lakeland Christian School, Lakeland, Florida (June 2019)
Xenos Summer Institute
Xenos Christian Fellowship, Columbus, Ohio (July 2019)
August Apologetics
West University Baptist Church, Houston, Texas (August 2019)
Gender and Sexuality
Second Baptist Church, Houston, Texas (August 2019)
[un]Apologetics Conference
Baptist General Convention of Texas, Jacksonville, Texas (August 2019)
Presentation to faculty, parents, and students
Covenant Academy, Cypress, Texas (September 2019)
Blessing the Body Conference
The Center for Redemptive Education, Holden, Massachusetts (October 2019)
Plenary presentation on Love Thy Body
Redeemer Church Brenham in Brenham, Texas (November 2019)