As you know, the Curmudgeon has been delving deeply into his stash of DVDs; for the weekend of May 2, he was about to re-view some of the sets of Great Lectures produced by The Teaching Company, but Amazon intervened in the nick of time and delivered the DVD version of "Star Wars: The Rise of Skywalker."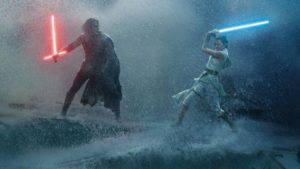 I had never had the chance to see that film for a second time back in the spring, and this DVD convinced me that I was right in thinking I had missed a great deal. Everything that I had liked about my first experience with the film held true, but I had missed essential information that my tricky hearing may have caused me to miss in at least two scenes. By good fortune, I had turned on the "closed captions" option when the disc started, and I am glad. In both scenes, Rey, like Joan of Arc, is hearing voices, and what they have to say is crucial.
Needless to say, I would still like to see the film again in a theatrical setting. Until that blessed event occurs, I will to have to peruse the DVD again and again.
And now for the Department of Unimportant Revelations: Earlier this spring I dipped into my archive of "Indiana Jones" films and paid more attention than usual to the second film, "Indiana Jones and the Temple of Doom." In the opening scene, Indy is dealing with an evil Asian warlord who makes Fu Manchu look nice; at one point, he is rescued by a Chinese male who is supposedly an ally from unrecorded adventures. The rescuer dies for his pains, but he learns that his name is Wu Han. That name is all too familiar to us now, but I am not saying that he had anything to do with a certain virus. Perhaps next year's Indiana Jones film will be called "Indiana Jones and the Pestilence of Doom."