A few weeks ago, I reviewed some biblical epics; my sacrificial lamb for today was less than an epic when it appeared in the 1974. A harshly cut DVD has been available, but until recently a complete version was hard to find; we do know that curmudgeons do tend to be annoyingly persistent when they choose to be, and my persistence finally paid off and I was able to obtain a six-hour version of the miniseries, "Moses the Lawgiver."
This version is very low-key (and very low-budget) in comparison to Cecil B. DeMille's 1956 epic, but the comparison is inevitable. Burt Lancaster portrays Moses and Lancaster was no Charlton Heston. Lancaster's Moses is far more hesitant and indecisive than Heston could ever have been. On the other hand, Anthony Quayle's portrayal of Aaron is far superior to that of John Carradine;  Miriam, Elisheba, and Zipporah all receive stronger characterizations than they did in Aeneas MacKenzie's 1956 script.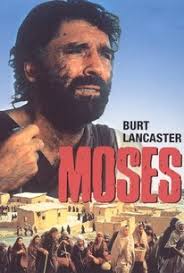 The Egyptian side of the story is very weak and the cast is less than convincing. The actor portraying the pharaoh is pathetic in comparison to such stalwarts as Sir Cedric Hardwicke and Yul Brynner.
The major virtue of the miniseries is the time it spends on the years in the wilderness. The Golden Calf episode is, in many ways, superior to DeMille's; DeMille then truncated the story and moved immediately to the arrival of Israel at the Jordan River and the end of Moses' life. Lancaster's version spends nearly two hours on the wandering in the wilderness and the difficulties faced by Moses in shaping the tribes into a nation.
I will always have a soft spot in my heart (and head) for the DeMille version, but I will also hang on to my DVDs of "Moses the Lawgiver" and Christian Bale's "Exodus: Gods and Kings."