Several readers have been prodding the Curmudgeon to read the mystery novels of Canada's Louise Penny. They are worth reading, but it is necessary to read the 16 books in chronological order; Penny's subplots often take three or four novels to come to fruition.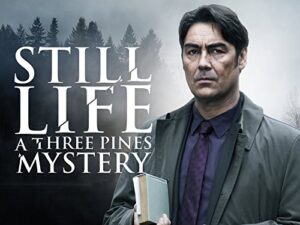 The interconnectedness of the novels poses problems for anyone trying to adapt them for the movies or television; such is the fate of the one adaption I have seen, 2013's version of the first novel, "Still Life." There is no novel of four or five hundred pages that can be translated into an 88-minute television movie. Too much is lost in translation.
Nathaniel Parker is not bad, but he does not match my concept of Chief Inspector Armand Gamache. My major complaint is the lack of essential information about some of the continuing characters; even though the "bonus features" on the DVD contain hints of at least one more adaptation, I am not aware of any others. In the novels, the village of Three Pines is almost in another dimension, but, like Midsomer, it soon becomes the murder capital of Quebec. The photography does make the village tangible, but that is not quite enough to justify buying the DVD or streaming the movie.
Read the books. I sometimes fuss about Penny's increasing tendency to indulge in sentence fragments, but the content is too good to miss. (I have learned a great deal about Canadian art, one of the recurring motifs).