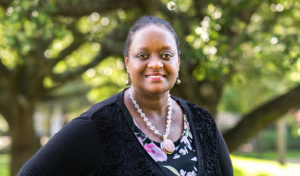 Dr. Renata Nero, Professor of Psychology, will participate in a free telethon program with the Community Artists' Collective from 7 p.m. to 8:30 p.m., Saturday, Nov. 7. Read more!
Press Release Courtesy of Community Artists' Collective
"Visual Art" telethon offers timely solace for the soul
The Collective's virtual event shares guidelines for confronting today's anxieties
The Community Artists' Collective will present a virtual event of uplifting entertainment and wisdom Saturday, November 7, from 7 to 8:30 p.m.
"Visual Art:  Tangible Support for the Soul," is an hour-and-a-half long educational and entertainment filled telethon designed to inform the community about how the arts can provide the peace and joy necessary to calm our anxieties and help us heal mentally, physically and emotionally.
"Many of us are experiencing stress, fear, sadness, loss, loneliness and poor health and need guidance in finding ways to handle our anxieties," Sarah Trotty, cofounder of The Collective, said.
"The arts, visual arts in particular, can help us cope with all the new health and economic challenges created by the coronavirus," she noted.
During the telethon evening, mental health experts will offer insights and coping mechanisms to enable individuals and families to better manage the "new normal."
An eclectic line-up of entertainment—ranging from dance, instrumental and vocal music, spoken word and comedy—will showcase the joy of the arts.
Featured mental health experts include Rheeda Walker, Ph.D., a licensed clinical psychologist whose program of research emphasizes two understudied areas—suicide science and African-American adult mental health; Renata L. Nero, Ph.D., a professor of psychology and the Sharon K. Burrows Professor at Houston Baptist University; Sheryl Corbit, Ed.D., a full-time Creative Arts Therapist at MEDVAMC's Community Living Center; Rev. Dr. Patricia Robinson Williams, Ph.D., D. Min., LMFT; and Fahad Punjwani, a creative strategist and poet who uses poetry in his work to support people in their growth through rough periods.
Melanie Lawson and John Guest are honorary chairs. Floyd Newsum, UofH Downtown Art Department chair, will receive the Artist of the Year Award, and Mary Holt Ashley, CAC board member, will receive the Beverly Harmon Service Award.
The telethon will benefit the educational programs of the Community Artists' Collective, a nonprofit 501(c)3 organization providing varied, high-quality programming, including exhibitions, historical preservation, tourism and education for children and adults within the greater Houston area. In addition, a portion of the proceeds will be donated to a local mental health institution.
Telethon viewers can access the free program online on November 7. The Collective will provide a link upon online registration at Eventbrite for this special event.
For more information about the telethon, contact The Collective at 713-523-1616 or visit www.thecollective.org.