The 2022 Dr. Dawn K. Wilson Teaching, Learning + Research Symposium will feature Jim "Mattress Mack" McIngvale as the keynote speaker for this year's themed event, "The Magnificent Seven: Creativity | Collaboration | Communication | Critical Thinking | Cultural Competency | Citizenship | and Character Development."
The symposium will be held from 8 a.m. – 12:30 p.m. on Saturday, Nov. 5, and will kick off with the keynote speech in McNair Hall of the Morris Cultural Arts Center at Houston Christian University, 7502 Fondren Road, Houston, Texas 77074.
Those interested in teaching, learning, and research are invited to engage in a variety of exciting sessions, exploring educational innovations and fascinating research alongside insightful presenters.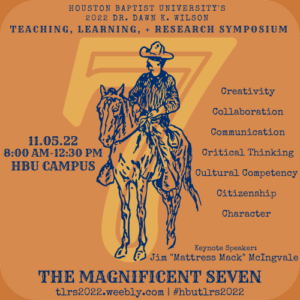 Breakout sessions will be held in the Hinton Center and will cover a variety of topics on teaching, learning, and research led by educators, administrators, and researchers from a variety of content areas and professional backgrounds.
Earn four CPEs (continuing professional education units) by participating in every session!
Online registration is available for $30 until Nov. 4 for HBU and non-HBU registrants. On-site registration (via credit card only) will be offered for $40 on Nov. 5. ​For current HBU students, registration is only $15. Breakfast will be included.
To register or for more information, visit HC.edu.