Academy Newsletter Summer 2022
Greetings, friends of the Academy!
I hope your summer so far has been filled with pool days, good food with friends and family, and great books. If you haven't yet registered for Academy classes, please do so as soon as possible! You can find the Academy application here (for new Academy students only) and the Academy pre-registration form here (for new and returning Academy students). For those of you who are already registered for Academy classes for 2022-23, don't forget to check the booklists for your classes here. I encourage you to read as many of these books as possible over the summer. Take notes and write down questions generated by these texts–you'll be ahead of the game once the semester begins!
Before the first day of classes on August 29, however, mark your calendars for August 5 and August 18. On August 5, Professor Melissa Klotz will be hosting an art camp at HCU for students ages 9-18! Guided by Professor Klotz, campers will have the educational and creative opportunity to create original pieces of art. The camp will run from 10:00-3:00 and includes a Chick-fil-a lunch plus an exhibition of the students' artwork. The art camp exhibition will begin at 2:45 pm in the UAC and parents are welcome to attend the exhibition. Registration will be limited, so don't wait! Reserve your spot today.
This year's Academy Orientation for new and returning students and their parents will take place on August 18 from 10:00-3:00. We're still finalizing the schedule, but students can expect a mock Socratic discussion, a Q&A with Academy alums, and some fun get-to-know-you games with students and faculty. Parents, if you have ideas for parent sessions, please email me at TheAcademy@hbu.edu. Register for orientation here.
I'd like to draw your attention to two new classes that we're offering this year: American and Texas Government with Dr. Shannon Holzer and Introductory Biology+Lab with Dr. Curtis Henderson. The government class with Dr. Holzer will take a great books approach to this important subject by reading Shakespeare and Machiavelli alongside political philosophers like Locke, Montesquieu, and Paine as well as founding documents from American and Texas history. Dr. Henderson's biology class, or "Second Saturday Science," offers high schoolers a wonderful opportunity to earn four hours of transferable college lab science credit. This class will meet August through May on the second Tuesday (5-9 pm) and second Saturday (9 am-1 pm) of each month.
In addition to government and biology, all high school students have the opportunity to enroll in Composition and Literature I or II, Western Civilization I,  Introduction to Philosophy, and The Art of Cinema and New Media. High school juniors and seniors are also eligible to enroll in traditional one-semester undergraduate classes alongside college students. You can check the course catalog here; please email TheAcademy@hbu.edu with questions about eligibility for these one-semester courses. See the full list of course offerings here. Keep reading for an interview with Professor Tyess Korsmo, The Academy's returning instructor for ENGL 1313: Composition and Literature I.
Sincerely,
Julianna Leachman
Director, The Academy
Houston Christian University
---
Featured in this issue of the Academy Newsletter
Academy Award Winners Announced
Congratulations to our Academy Award winners for the 2021-2022 academic year! We commend all of our students on their commitment to scholarship and academic excellence.
Order of John Chrysostom: Ilo Tran and Emersyn Reyna
Awarded to the student who has best demonstrated the ability to match clarity of thought with eloquence of expression
Order of Dante Alighieri: Eniya Kaleemullah
Awarded to the student who has best demonstrated an artful and compelling command of the written word
Order of St. Augustine: Baila Walker
Awarded to the student who has best demonstrated the ability to pursue the truth thoughtfully and courageously through reading, writing and discussion
Academy Essay Contest Winners Announced
Following our fall min-conference on friendship, the Academy invited Houston-area students in grades 6-9 to write and submit original essays on the theme of friendship. We celebrated the following winners this spring at an awards ceremony on HCU's campus which culminated in a fascinating talk by Dr. Emily Stelzer on friendship in literature and history that invited attendees to work together to analyze an early seventeenth-century woodcut depicting an allegory of friendship.
Best 6th grade essay: "Holy Friendship"  by Simon Browne, Aristoi Classical Academy 
Best 7th grade essay: "A Willingness to Sacrifice" by Mary E. Denlinger, Aristoi Classical Academy 
Best 8th grade essay: "Literary Friendships: Which is the True Friendship?" by Maggie Touma, St. Thomas More Parish School 
Grand Prize and $150: "Rumi and Shams: A Bridge Between Two Worlds" by Zayaan Rab, 9th grade, Harmony School of Innovation, Sugar Land 
Academy Art Camp
August 5, 2022 10:00 am-3:00 pm
University Academic Center (HCU campus)
This camp is open to students ages 9-18. Guided by the Academy Art instructor, Professor Melissa Klotz, campers will have the educational and creative opportunity to create original pieces of art. Campers will create their artwork within the University Academic Center on the campus of Houston Christian University and also enjoy a Chick-fil-A lunch. The camp will also include an exhibition of the students' artwork created during the day. The art camp exhibition will begin at 2:45 pm in the UAC and parents are welcome to attend the exhibition.  Registration will be limited, so don't wait to reserve your spot!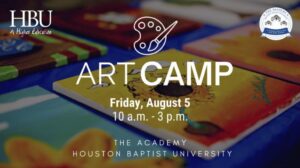 Contact information:  Art professor Ms. Klotz, mklotz@hbu.edu or theacademy@hbu.edu
Cost:  $50.00 (includes lunch and supplies)
Academy Orientation Fall 2022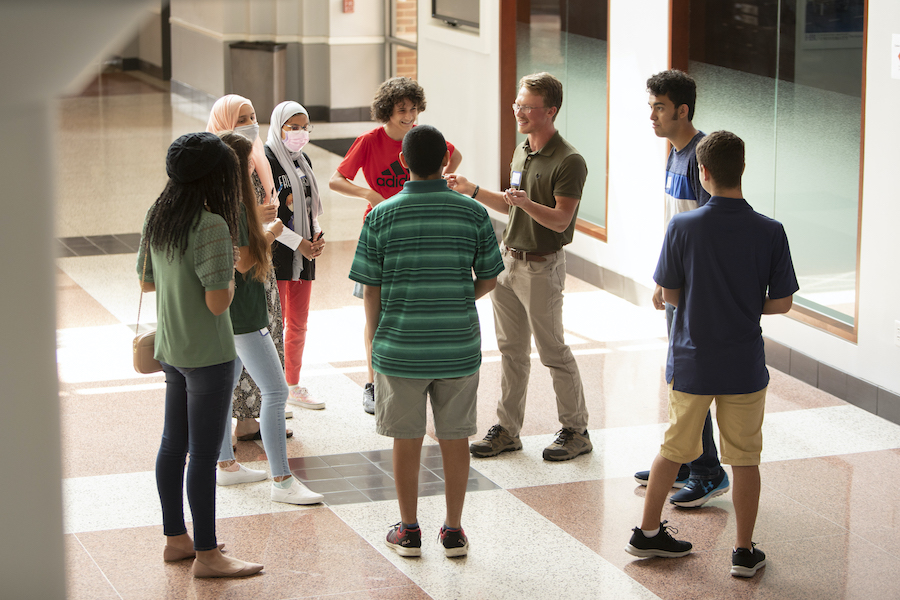 Incoming, returning, and prospective Academy students and parents are invited to join us for orientation on Thursday, August 18th from 10:00 a.m. to 3:00 p.m. Orientation will take place in the Hinton Center on HCU's campus. Students will get to know their classmates, participate in a mock discussion seminar*, and hear from Academy alumni about their experience in the program. Parents are encouraged to attend to hear from faculty and receive a tour of HCU's museums. Important!  The deadline to register for Academy Student Orientation is MONDAY, AUGUST 8 if you want to order lunch**.
For more information about the Academy orientation, please email theacademy@hbu.edu or give us a call: (281) 649-3661.
*Students: Please read George Orwell's essay "Politics and the English Language" before orientation. Print out and annotate the essay, and come ready to discuss! 
**Lunch will be provided for Academy students and their parents. Additional lunches can be purchased via the registration link.
Faculty Feature: Tyess Korsmo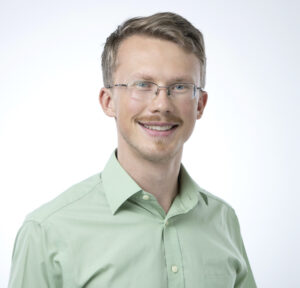 This will be your second year teaching for The Academy. What excites you about returning to The Academy this year?
I probably learned more during one year as a teacher than during two years of grad school (and grad school at HCU was great, so that's saying a lot). I'm excited to apply what I've learned and make my classes even better. Since each student and discussion group is unique, I'm thrilled to meet the next set of brilliant minds!
Your graduate training was in English and history. What interplay do you see between these two disciplines, and what does that interplay look like in The Academy classroom?
Discipline boundaries deserve to be broken. As an English scholar, I analyze texts. As a historian, I do the same thing, except that I focus on what the texts can tell us about the past. Understanding a work of literature helps us to understand its historical context, and vice versa. Both can teach us the story of our world—and display how, as the author of Beowulf says, "mighty God has ruled mankind always and forever." That's why we read old books in The Academy. We discuss their themes and cultural contexts to learn about the interpretive principles that unlock difficult texts, the past that shapes our present, and the timeless truths that challenge us today.
The Academy booklists got a facelift this year. What is one text new to The Academy booklist that you are excited to teach and why?
Shakespeare is a blast. Hamlet is moving from Great Books II to ENGL 1313, and As You Like It is completely new. Last semester, I enjoyed acting out Shakespeare with my GBII students at one of our partner schools. They brought swords (fake ones), shovels, wigs, cloaks, and great acting skills! It helped them enjoy and understand the Bard better than if they read him alone. I'm excited to see more students bring the texts to life!
You have another classroom outside of HCU. Can you tell us more about your experience teaching English to convicts serving long or life sentences in a maximum security prison? What effect has this experience had on your teaching in The Academy?
Sometimes, academic writing seems to happen in an artificial bubble, disconnected from "the real world." But the prisoners made writing poignantly real to me again. When I freed them to write letter-form essays to anyone they chose, some made me proud; some almost made me cry. One asked his estranged father to get back in touch. Another begged the mother of his children to let him write to them. Another asked the warden to enforce a no-cursing rule on both guards and prisoners to de-escalate conflicts. This reminded me how powerful writing can be when it's personally relevant to the writer. It inspired me to search for better ways to show my Academy students how writing and reading assignments are relevant to them.
Also, the prisoners' grammar struggles forced me to come up with more creative explanations, and their enthusiasm for the book They Say/I Say prompted me to assign it for ENGL 1313.
I didn't get the chance to implement all of these changes last year, but I look forward to the fall!
When you're not teaching, what keeps you busy?
This summer, I plan to finish writing a novel about Hurricane Matthew survivors in Haiti. I'm also training to run a Tough Mudder race with my sister and some friends. I enjoy having deep conversations, working construction, hiking, camping, playing guitar, fixing things, and writing poems, short stories, and essays.
What is on your summer reading list?
I just finished Laurent Dubois's Haiti: The Aftershocks of History, Christine de Pizan's The Book of the City of Ladies, and Jacques Roumain's Masters of the Dew. Next up is probably the Qur'an, Herodotus' Histories, or A.D. Sertillanges's The Intellectual Life. I'm also chewing on Aristotle's Metaphysics and a great book called Putting Jesus in His Place: The Case for the Deity of Christ.
What encouragement can you offer to new and returning Academy students?
Take ownership of the classroom. It's designed to be a safe space for you and your classmates to sharpen ideas against each other. Be courageous enough to speak up when you're nervous, strong enough to hold back when needed, bold enough to defend the truth when others disagree, and humble enough to admit when you're wrong. Don't be afraid to tackle—or ask—any question (although you might want to save rabbit trails for later). In an Academy class, you get out what you put in.
Class Spotlight: "Second Saturday Science": Introductory Biology+Lab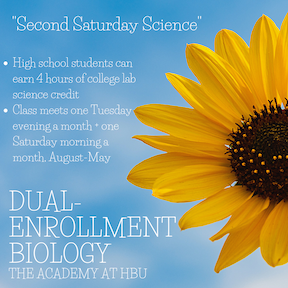 This year, we're thrilled to offer Academy students the opportunity to enroll in "Second Saturday Science," a year-long introductory biology class plus lab. Dr. Curtis Henderson, the instructor, writes, "I've had a life-long fascination with science, especially biology, and have shared my love for God's creation with college students for over 20 years. The 'Second Saturday Science' program will allow me to work with younger students that are seeking to learn more about Biology and earn General Science credit along the way. I'm very much looking forward to the learning experience we will have together!"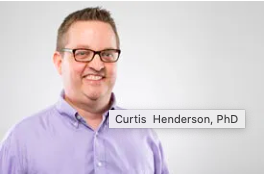 "Second Saturday Science" (BIOL 1404/1004) is a general survey of biology including the study of plants, animals, ecology, and some marine biology. This course includes three semester hour credits for biology and one semester hour credit for laboratory sessions (total of four semester hour credits). This course cannot be applied toward a biology major.
This course meets the second Tuesday from 5:00-9:00pm and the second Saturday from 9:00am-1:00pm of each month.
Schedule:
| | |
| --- | --- |
| Aug. 9 | 5:00-9:00 pm |
| Aug. 13 | 9:00 am-1:00 pm |
| Sept. 13 | 5:00-9:00 pm |
| Sept. 17 | 9:00 am-1:00 pm |
| Oct. 4 | 5:00-9:00 pm |
| Oct. 8 | 9:00 am-1:00 pm |
| Nov. 8 | 5:00-9:00 pm |
| Nov. 12 | 9:00 am-1:00 pm |
| Dec. 6 | 5:00-9:00 pm |
| Dec. 10 | 9:00 am-1:00 pm |
| Jan. 10 | 5:00-9:00 pm |
| Jan. 14 | 9:00 am-1:00 pm |
| Feb. 7 | 5:00-9:00 pm |
| Feb. 11 | 9:00 am-1:00 pm |
| March 7 | 5:00-9:00 pm |
| March 11 | 9:00 am-1:00 pm |
| April 4 | 5:00-9:00 pm |
| April 8 | 9:00 am-1:00 pm |
| May 9 | 5:00-9:00 pm |
| May 13 | 9:00 am-1:00 pm |
Academy students, alums, and faculty: we want to hear from you! Let us know what you're up to outside the Academy classroom. Email TheAcademy@hbu.edu with your news.
Make sure to like and follow our Facebook page for more frequent updates.