Houston Christian University Retirees Association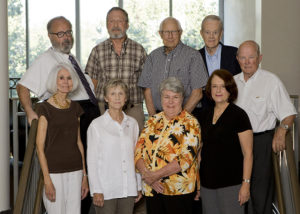 Established in 1999, the Houston Christian University Retirees Association provides an opportunity for former employees to continue cherished relationships with one another and the University.  During the academic year, the Association holds three lunchtime events for attendees to fellowship during a meal and hear from a University representative or student group.  The Retirees Association is a dues paying organization, consisting of former administrators, faculty, staff, and their spouses.  Members must have completed ten years or more of service* to HBU.
*Members not meeting these requirements and desiring membership should make application to the Administrate Board of the Retirees Association.
2019-20 Retirees Association Luncheons and Meetings
Click on meeting date to RSVP and / or pay Association dues via a secure site.  Luncheon and meeting reservations can also be made by mailing a check to the Treasurer or calling Linda Clark, (281) 649-3434.
Retiree's Luncheon – April 17, 2020
HCU Retirees Association Executive Committee
Hugh McClung, Chair
Vacant, Assistant Chair
Linda Brupbacher, Secretary
Daton Dodson, Treasurer
Kaye Busiek, Hospitality Officer
Shari Wescott, Membership Officer
Jon Suter, Representative–at–Large
Mary Ellen Spore, Representative–at–Large
Ann Noble, Information Officer
Candace Desrosiers, University Liaison
Loree Watson, University Liaison
Retirees Association on Social Media
Keep up with us on social media by joining our Facebook community.
Projects Supported by the Retirees Association
The Doris Corpier Warren Alumni Endowed Scholarship