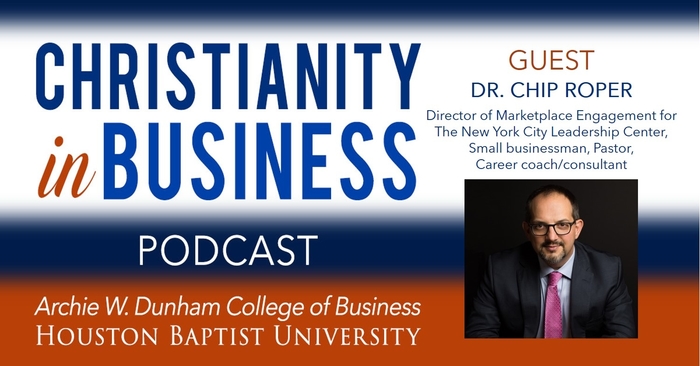 Dr. Chip Roper shares Biblical principles and practices for effective networking.
As the Director of Marketplace Engagement for The New York City Leadership Center, Dr. Chip Roper is building a bridge across the vocational divide, the disconnect many people live between their Sunday faith and their Monday reality.  This compartmentalization is experienced at the individual level and reinforced at the institutional level. To build this bridge, Chip creates experiences and delivers resources that equip professionals who work in New York City to engage in their jobs with a robust sense of calling. He also trains pastors to validate and support their people in their workplace vocations. Chip turns the daily grind into a spiritual adventure, serving 1000's of people annually.
Chip comes at the workplace opportunity from a variety of perspectives including his work as a small businessman, a pastor, and a career coach/consultant.  In addition to his Director work, Chip writes the blog Marketplace Faith for Patheos.com, is the principal of Next Chapter Consulting and serves as a teaching pastor at Lower Manhattan Community Church.
They live along the East River in the Hunters Point Queens neighborhood of New York City.
Email:  croper@nycleadership.com
Website:  www.NYCLeadership.com/marketplace
Blog: www.patheos.com/blogs/marketplacefaith/
Facebook: www.facebook.com/MarketplaceInitiative
LinkedIn: www.linkedin.com/in/drchiproper
Twitter:  @drchiproper