I formed a taste for "caper" films such as The Lavender Hill  Mob in the mid-1950s; such films as Topkapi and The String kept my interest alive; therefore, I was already conditioned to want to see Going in Style; the presence of such seasoned stalwarts as Michael Caine, Morgan Freeman and Alan Arkin was icing on the cake.  The only thing better would have been to see Maggie Smith, Helen Mirren and similar giants  plotting to steal the crown jewels.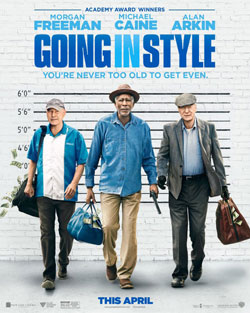 Three elderly friends, surviving from pension check to pension check, are devastated by the news that their former company has managed to steal their pensions through legal trickery in which their bank has cheerfully participated.  Their only solution is to rob the bank to get back the money that has been pilfered.
Something always goes wrong in caper movies, and this is no exception.  There are, of course, several deceptions, not only of the authorities but of the audience.  It would seem that the three nice old men have  larcenous abilities that would make their families blush.
I thoroughly enjoyed the movie despite some rough language.  There are some nice allusions to the old Frank Sinatra-Sammy Davis-Dean Martin version of Oceans Eleven that the younger generations might not get.  Nothing would be lost if you waited for the DVD.
I had hoped to see either The Case for Christ or The Zookeeper's Daughter on the same day, but whoever sets up the schedules made both films start about an hour before Going in Style let out.  I didn't have time to wait around, so that left me with some options for the Easter weekend.