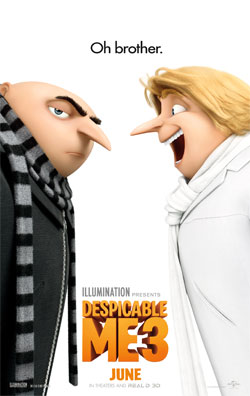 The only movie of interest on the July 1 weekend was the third installment of Despicable Me, and that was a very anemic source of amusement or nourishment.  The Gru franchise probably should be retired.
There are some clever moments, particularly the allusions to older movies such as Raiders of the Lost Ark, but there are not enough of those to keep your attention on the screen.  The main plot centers on Gru's discovery that he has a long-lost twin named Dru; the two are identical except that one has a luxuriant head of hair.  Dru would really like to be as evil and larcenous as  his nefarious brother, but he is not very good at villainy.
The plot, such as it is, is almost outweighed by the barely related subplots.  The three daughters are annoying at best; little Agnes and her search for a unicorn are annoying at best; Mrs. Gru's attempts to bond with her stepdaughters is pale; and, the Minions spend most of their time trying to escape from a penitentiary.
The three week drought is almost over; the July 8 weekend will give us the third version of Spider-Man;  I have also heard good reports about Holly Hunter in The Big Sick.