I only had time for one film on the July 29 weekend, and I chose Kathryn Bigelow's "Detroit." I might have made time for a second film, but I just could not work up any enthusiasm for "Atomic Blonde," let alone a movie about emojicons.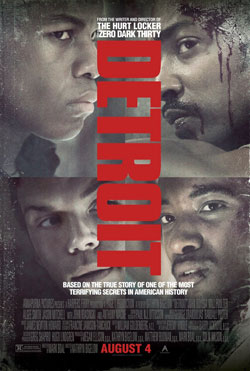 I learned to respect Bigelow through such films as "Hurt Locker" and "Zero Dark Thirty." I think both of those are better than "Detroit," but I am glad I saw"Detroit." I remember the summer of 1967 all too well; I was in my second summer of doctoral studies and only saw newspaper accounts of the Six-Day War in Israel and of the Detroit riot. If I had seen television reports, my memories might be more vivid, but they are vivid enough. I remember reading a book entitled "The Algiers Motel Incident," and I remembered just enough of it to have some understanding of what was happening on screen.
The film lies somewhere between a documentary and a drama; there is little or no resolution of the various plot threads, and that robs the film of its potential impact. Many scenes are very well done, but the lack of resolution hurts.
The cast is good, but I only recognized John Boyega because of his work in the current "Star Wars" trilogy. He is good, as is Anthony Mackie as a returning Vietnam veteran caught up in the Algiers incident.
The film is worth seeing, but it does contain some very offensive vocabulary. If you can only see one film before classes resume, it should be "Dunkirk."  (I have just learned that a film about Winston Churchill is coming in December with Gary Oldman as Churchill; that will be high on my holiday viewing list.)