By Jeffrey H. Green, PhD
One of the fun parts about being dean of The Graduate School at Houston Baptist University is working with my colleagues across campus.  For example, while I am a philosopher by training, I have my office in the nursing building, I get to celebrate our graduate students in the visual arts, and I support our new doctoral programs in education.  In addition, I work I closely with the team we have in the College of Education and Behavioral Science.  The programs that explore the life of the mind and mental health are among our most popular graduate programs at HBU.  Included among them are a Master of Arts in Psychology, a Master of Arts in Marriage and Family Therapy, a Master of Arts in Clinical Mental Health Counseling and a Master of Arts in Christian Counseling.
I think one reason for the popularity of these degrees is that there is a clear need for trained mental health professionals.  Mental illness can be debilitating and deadly.  It causes destruction in the lives of individuals and the families, churches, and businesses they are a part of.  In our communities are those that are struggling with addictions, broken relationships, and depression.  I'm thankful that at HBU we have committed Christians who are dedicated to training students to help those who are suffering.
In addition, we live in a time of great change and social isolation.  Since the Fall, life has never been easy, but I think sin manifests itself in different ways through time and space.  While many on a daily basis experience the joys of easy communication and material well-being they still suffer mental anguish.  Making sense of this phenomena, of how we can be prosperous but sad, is a challenge of our time.  In the midst of change we struggle to hold on to meaning and purpose, and the social structures that are there to buttress us through change either are not present or are too weak.  Ultimately, it is Christ that answers our need for meaning by pointing us to the Father and inviting us to participate in the Kingdom of God.
Finally, the mind and its relation to the body, and the nature of consciousness, remain some of the most fraught questions in philosophy.  As the atheist philosopher Thomas Nagel writes, "Since a purely materialist explanation cannot [explain the appearance of conscious organisms as such], the materialist version of evolutionary theory cannot be the whole truth."[1]  There is a great mystery in the fact that we have a subjective point of view of the world and that there is something it is like to be us.  The behavioral sciences can help us shed light on these mysteries and are needed contributors to our scholarship and our understanding of God's creation.
Over the next months we are going to explore our mind and soul from the vantage point of Christianity.  I hope that the articles will shed some light on the interesting projects our faculty are pursuing and the way in which we can apply Christian worldview to questions about the mind, soul, and mental health.
[1] Thomas Nagel, Mind and Cosmos (New York: Oxford University Press, 2012), 45.
[Editor's Note: Christianity, Mind and Mental Health image from Van Gogh's The Pietà (after Delacroix), 1889, found at Wikipedia Commons.}
---
About the Editor of "The City"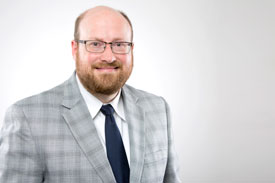 Dr. Jeffrey H. Green is an Assistant Professor of Philosophy at Houston Baptist University where he serves as the director of the Institute of Christianity and Scholarship and the interim associate dean of The Graduate School.