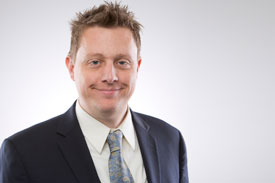 Dr. Joshua R. Farris, assistant professor of Theology, has recently been involved in multiple projects: "Philosophy Now," "Evangelical Philosophical Society," and two panel discussions.
Due to the level of interest, certain articles from previous years are chosen to be republished in "Philosophy Now: The Ultimate Guide: Metaphysics, The Nature of Reality." Philosophy Now is a popular level magazine of philosophy. In it, the authors address a wide range of philosophical disciplines and topics relevant both to the history of philosophy and to contemporary philosophy. Dr. Joshua Farris's "What's So Simple About Personal Identity?" was chosen to for re-publication in The Ultimate Guide, which is a special issue in Philosophy Now. In this popular article, Dr. Farris lays out the different views of personal identity common to the philosophical literature on personal identity and metaphysics. In the article, Dr. Farris talks about the nature of identity as a relation to what persons are. What are we by nature? He raises questions about what it is that we are individually related. Are we souls, souls and bodies, bodies, brains, memories or something else?
Recently, Dr. Farris has given three papers at the Evangelical Philosophical Society and the American Academy of Religion. He gave one co-authored paper at the Evangelical Philosophical Society on the nature of the atonement, i.e., what does it mean that Christ died for our sins? The paper was entitled: "Repairing William Lane Craig's theory of atonement." Therein, Dr. Farris and his co-author offer some criticism of Craig's recent defense of the penal substitutionary atonement in his: The Atonement, and they offer an initial way forward to constructing a theory of the atonement that is consistent with the Bible's larger framework of the atonement, namely, a kingdom theory of atonement that is concerned with the nature of honor in God's moral government.
Second, Dr. Farris was a part of a panel discussion around his academic monograph, "The Soul of Theological Anthropology: A Cartesian Exploration," where he responded to the panelists on various topics within his book. In his book, Dr. Farris offers a constructive defense of a Cartesian view (i.e., the view that we are souls in relation to bodies, but we are not bodies strictly speaking) of the human in a theological context. The panel was well attended and the discussion was lively.
Third, Dr. Farris was a part of another panel discussion at the American Academy of Religion where he offered a response to Tim Pawl's book, "In Defense of Conciliar Christology." Tim Pawl offers a defense of Christology as laid out by the Christian Church found primarily in the Council of Chalcedon, yet with a view to the wider orthodox or dogmatic Christian tradition. The panel was well attended and the discussion was lively and cordial.