The long drought disappeared briefly for the weekend of March 9. I treated myself to "Captain Marvel," about which I have been yammering for weeks. It did live up to my expectations and whets my appetite for "Avengers: Endgame."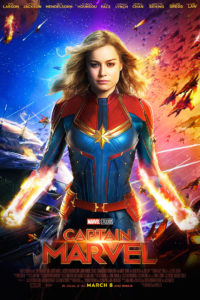 I had not been aware of Brie Larson before this film, but she holds her own. The supporting cast is far more impressive: Jude Law and Annette Bening as members of the Kree, an alien race not fond of humans (or any other intelligent species), and Samuel L. Jackson as a young Nick Fury; this is in fact the largest role Fury has played in any Marvel film and Jackson makes the most of it.
The first half of the film is the complicated origin of "Captain Marvel" and is a little too long, but the second half is very good, and not just because of the special effects. Several writers have compared this film to Gal Gadot's "Wonder Woman," and I would concede that the Gadot film is better. But the true comparison should be with DC's other female superhero, Supergirl. No one has mentioned that both Captain Marvel and Supergirl have civilian identities surnamed Danvers.
You need to sit through the credits; there are three "Easter eggs" that strengthen the link between this film and the two Avengers versus Thanos epics.
The weekend of March 16 looks bleak.