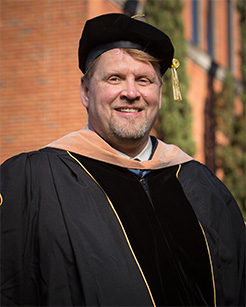 Dr. Timothy Ewest, associate professor of Management in the Archie W. Dunham College of Business, has been appointed as a visiting scholar at The Institute for Faith, Work & Economics (IFWE). His appointment is for a two-year period beginning June 1, 2019. IFWE was founded by Hugh Whelchel, their acting executive director and author of the book, "How Then Should We Work?" Whelchel founded IFWE as a Christian organization with the intent of advancing a free and flourishing society by revolutionizing the way people view their work. The IFWE vision is based on the belief that the Bible contains timeless truths about the purpose of our work and how individuals make wise decisions with all that we've been given. Moreover, when Christians understand and live out the biblical meaning of work, then their lives, as well as the societies and nations they live in, will be transformed for Christ.
To this end, IFWE's mission is to educate and inspire Christians to live out a biblical theology that integrates faith, work, and economics, and to provide researched-based answers, publications, conferences, media support and training.
During his appointment, Dr. Ewest will be responsible for writing working papers and academic articles intended for publication and presentation; a series of blog posts on the biblical understanding of work; and most significantly, will be leading a project on the development of a faith and work curriculum to be used by seminaries.
Dr. Ewest joins other IFWE scholars such as JP Moreland, distinguished professor of philosophy at Talbot School of Theology, Biola University in La Mirada, California; Chad Brand, associate dean of biblical and theological studies at Boyce College, as well as professor of Christian theology at The Southern Baptist Theological Seminary; and Doug Bandow, who served as a special assistant to President Ronald Reagan and is a senior fellow at the Cato Institute and involved in International Religious Persecution at the Institute on Religion and Public Policy.
---
Dr. Timothy Ewest was involved in two presentations at Sustainability Texas (SUSTEX), a conference hosted by Texas A&M. SUSTEX brought together leaders from the private sector, government, and academia together in a personalized environment to reflect and discuss the present challenges and successes in advancing sustainable business practices and education. The SUSTEX conference focused on the academic aspects of sustainability, examining ways to better promote sustainability in higher education, as well as research workshops, research presentations, and roundtables.
In the first presentation, Dr. Ewest was joined by colleagues Sharlene Buszka, associate professor and chair of Business Administration at Daemen College; and Dr. Michael Kraten, professor of Accounting and department chair of Accounting, Finance and Economics at Houston Baptist University.
This first workshop explored how the human value of altruism is a common link between values, spirituality/religion, leadership, and sustainability. The workshop explored: 1) Values as essential qualities of human nature; empathy and altruism are two such values; 2) Spirituality is a means to foster altruism in the lives of leaders; 3) Leaders who rate high on the core value of altruism are instrumental in implementing and maintaining sustainable practices; and finally, 4) Spiritual and prosocial leaders are motivated by the value of altruism, and engage in practices to enhance the sustainability of their followers and organizations. Dr. Kraten conducted a case study in the workshop a means of demonstrating applications of the principles discussed.
The second presentation Dr. Ewestpresented with the United Nations Think Tank, Principles of Responsible Management Education (PRME), of which he is a member. Dr. Ewest presented with Dr. Isabel Rimanoczy, chair of the PRME Working Group on Sustainability Mindset; Dr. Abigail Schneider, Regis University; and Dr. Richard Peregoy, University of Dallas.
The workshop explored the profound impact that business has on our planet, and how it is critical that business leaders understand the context in which they operate, as well as the role that they personally play within our world's ecosystems. To that end, UN PRME Working Group on the Sustainability Mindset presented a tested curriculum they developed for helping students and business leaders develop a Sustainability Mindset, which connects being, thinking, and doing for positive change. Over the past five years, elements of the Sustainability Mindset course have found their way into pedagogical innovations around the globe, helping to transform management education and the state of our planet.