My plans to see either or both "Terminator" and "Harriet" on the Nov. 2 weekend did not go as I anticipated. When I arrived at the megaplex, I noticed "The Current War" was playing; I thought it had already left town; therefore, I changed my agenda and headed for that film.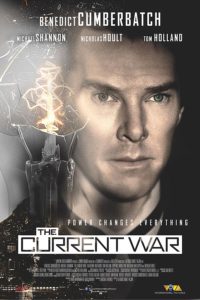 The film covers the struggle between Thomas Edison, George Westinghouse, and Nikola Tesla over the use of direct current or alternating current in the electrification of America in the 1880s and '90s. I knew about Edison and Tesla, but Westinghouse's role in the struggle was new to me. My generation was brought up to revere Edison, and we never heard a word about Tesla.
Benedict Cumberbatch does very well as Edison; it has been many decades since I saw Spencer Tracy's hagiographic version of the character; the rest of the cast does well, but I wish the closing notes had explained how important Samuel Insull, Edison's young aide, would be in bringing on the Great Depression in the 1920s and '30s.
This is not a brand-new film. A different version bombed at the box office a year or so ago, and this is the director's attempt to revise and revive the film. I never saw the first version, so I have no basis for comparison.
Some might find the film slow and tedious, but I enjoyed it. Since I am partial to films based on history, I decided to stay at the theater and catch "Harriet," but that idea fell through when I tried to buy a ticket. The 2 p.m., showing was sold out, and I had no desire to wait for the 4:30 showing. That film is very high on my priority list for my next visit; "Terminator" did very poorly at the box office and it has now sunk several notches below "Harriet" and "Doctor Sleep."