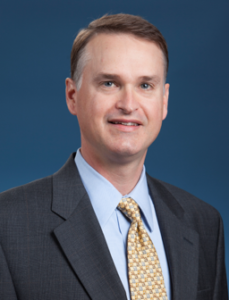 Tadd Tellepsen MBA '99, CEO of the Tellepsen Corporation, is furthering the HBU Science, Math, Engineering, and Nursing & Allied Health building project with a $1 million gift. The funds will serve to construct classroom and laboratory facilities to be utilized by the College of Science and Engineering and the School of Nursing and Allied Health. The modern facilities will allow for more effective study, research and practice, and will draw new students to the prestigious programs.
Tellepsen's generosity follows that of Sherry and Jim Smith, Sr., who gave the lead gift for the future building. "The Smiths have always been an inspiration to me and my family," he said. "Their faith and philanthropy are examples to us all. I am grateful to be able to join them in supporting this Christ-centered University with such an impactful program for HBU students completing STEM and Nursing coursework and degrees."
Dr. Robert Sloan, HBU president, said, "The gift of the Tadd Tellepsen family toward our STEM/Nursing renovations and new facility is wonderfully generous. Tadd and Jennifer Tellepsen join Jim and Sherry Smith in enabling HBU to continue its work through nursing, engineering, and other fields of science and medical caring to serve individuals and families in their times of greatest need. The Tellepsen family has, for many years, been one of the great pillars of strength for HBU. We are truly grateful for their generosity."
The Tellepsen family has served HBU in numerous ways. They will be Friends of the Gala for the 2020 HBU Spirit of Excellence Gala in November. In 2019, Tadd received the Distinguished Alumnus Award; the award is given to alumni who embody the principles of HBU and have made significant contributions in their field. He became a Pillar of Freedom sponsor for the Morris Family Center for Law & Liberty, and served as a Bronze sponsor for the School of Nursing and Allied Health's Annual Luncheon. The Tellepsens were the HBU Family of the Year in 2017. Jennifer and Tadd Tellepsen served as underwriting chairs of the 2016 Spirit of Excellence Gala. They are among the HBU Football Founders. Tadd was the keynote speaker and sponsor for the Center for Christianity in Business Networking Luncheon in 2015. He joined the HBU Board of Trustees in 2011. In 2006, Tadd received the Meritorious Service Alumnus Award; the award is given to alumni who exemplify sustained commitments of time, actions and energy toward furthering the ideals of HBU.