The Spirit Golf Association is partnering with the Houston Food Bank to help raise money, and recruit volunteers to distribute food to our local neighbors around Houston. Did you know that 1.1 million people are food insecure in Houston right now? Due to the COVID-19, the Houston Food Bank is currently experiencing a 130%- 150% increase in demand. So far, The Spirit Food Fund has publicly raised over $618,000 for the Food Bank and that is just in a span of a couple of weeks! The SGA will be announcing additional pledges and gifts in the coming weeks to reach our $2 million goal.
Due to this unprecedented need, the Food Bank is seeking volunteers, so the Spirit Golf Association is organizing a Volunteer Day at The Houston Food Bank on Friday, June 12 and we would love for you to join! Anyone and everyone are welcome! Invite your family and friends. Children over age 6 are welcome; they must be accompanied by an adult.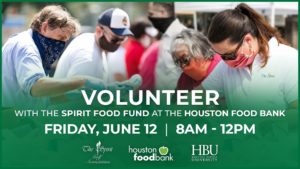 Sign up for Friday June 12, 2020: Time Shifts
Please sign up by clicking the link for the time slot you would like to participate in. The Food Bank asks that you come in closed-toe shoes and that you bring a face mask. We will provide you a T-shirt to wear. Once you sign up, please indicate what size shirt you would like.
If you are not able to be at this event and wish to donate, please donate online.