The death of Congressman John Lewis reminded the Curmudgeon that it had been far too many years since he last watched Sir Richard Attenborough's 1982 epic, "Gandhi." The film has lost none of its punch in the last 38 years and richly deserved its Oscars.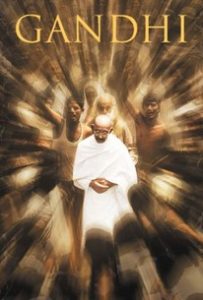 This time around I could not help noticing the similarities in structure to David Lean's earlier "Lawrence of Arabia"; that is not a problem. There is not as much action as in Lean's film, but when it comes, the impact is still wrenching. The Amritsar Massacre and the brutal beating of demonstrators at a salt factory are still horrifying even though you know you are watching simulations; whereas the violence in the films taken in 1965 at the Edmund Pettis Bridge in Selma, Alabama, where John Lewis and his colleagues were brutally beaten, remains all too real. (I remember vividly hearing my sister mutter some very unladylike vocabulary during the Amritsar scene.)
I had no problem at all with Ben Kingsley receiving the Oscar for Best Actor in the spring of 1983, but I have to confess to being shocked later that year when I participated in a post-doctoral seminar at Oxford University. Many of the faculty were deeply apologetic to the American participants; they insisted that Dustin Hoffman should have had the Oscar for his role in Tootsie. It was clear that the loss of India still rankled decades after the fact.
The film's one weakness is the assumption that the audience knows or remembers what was happening outside India in the 1920s and '30s. There are references to Hitler, but the film never mentions the very serious threat posed to India by Japanese forces in the 1940s. That is a very minor quibble; the film remains an overwhelming achievement.