Houston Christian University will serve as the host site for the Archdiocese of Galveston-Houston's First Annual Summer Sacred Music Choral Festival at 7 p.m. on Saturday, June 17, in Dunham Theater.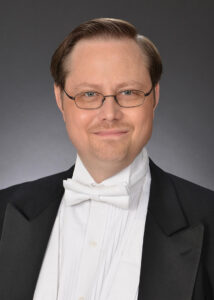 The event will be conducted by HCU's Dr. Kevin M. Klotz, known for his sacred music expertise, and will bring two hundred church choir members from all denominations from across the Greater Houston area together to raise their voices in praise and thanksgiving. This weekend of fellowship will culminate in a performance of a masterpiece in the choral and orchestral repertoire, Requiem for the Living, by the American composer Dan Forrest.
Organized by the Archdiocese of Galveston-Houston's Office of Worship, this inaugural nondenominational concert is the first of its kind and offers local choristers the opportunity to perform sacred coral masterpieces which are rarely in a smaller choir's repertoire.
Dr. Richard Lopez, Associate Director of Worship at the Archdiocese of Galveston-Houston, describes Dunham as a "fitting atmosphere" for this interfaith concert.
"Our goal is to enrich the hearts and minds of our participants and listeners by offering a meaningful experience that is designed to build connections within our community through the art of sacred music," said Lopez.
Scanlan Foundation, known for its support of initiatives to promote sacred music in Texas, is the sponsor for the First Annual Summer Sacred Music Choral Festival.
"Invite everyone you know with an appreciation for good music," says Larry W. Massey, Jr., president of Scanlan Foundation. "A concert like this is a great opportunity to experience the beauty of sacred music."
Church choir members of all denominations are invited to join in raising their voices in praise as a part of this special event. For concert tickets or to register to participate as a singer, visit www.archgh.org/choralfestival. HCU students are invited to register with a special promo code for free admission.