Just a five minute walk from a vacant Minute Maid Park, with the Astros away on a road trip, the future of Husky football was being forged.
A fitting location to host discussions about turning a team around.
The Astros and their longtime fans are all too familiar with the process of building a contender from scratch. Like many of the teams here in Houston have historically, the HCU Huskies football program is attempting a resurgence as it enters a new era.
At Irma's Southwest, a lovely, family-owned restaurant, friends of Houston Christian University, fans, former Huskies, and some notable names from HCU met for an evening of fellowship and with the purpose of discussing the ongoing plans of reinvigorating HCU football.
With donors and fans and former HCU football players, HCU President Robert Sloan, head coach Braxton Harris, and HCU athletics director Steve Moniaci discussed their vision for this new era of Huskies football.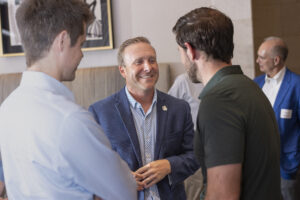 "Eight months ago, I was hired as the second football coach here at HCU," Harris said. "We still talk every day, Jennifer and I, about how lucky and how thankful we are that we get to do this."
It's only been eight months since Harris was hired. Shortly thereafter, he and his wife Jennifer moved to Houston with their four children. And though it's only been a brief period of time, notable changes have come to HCU's football program.
Starting with recruiting.
Harris and his staff, in the span of a little over a month after being hired in December, efficiently assembled one of the best recruiting classes in the country.
"These guys went out and they sold the vision. Top 10 recruiting class in the nation. The number one recruiting class in Texas in FCS college football," Harris said.
It's the best recruiting class in HCU's history and there's a lot to be proud of there.
But beyond infusing this roster with talent, Harris is also bringing a point of emphasis to embolden his staff and players to embody the characteristics that make HCU stand out.
"And so the mission statement about HCU football is simple," Harris explained. "A Husky will be accountable and persistent in all areas of their life. We will carry out these characteristics with an enthusiasm that is unknown to anybody in the Southland Conference or the nation."
And he wants that to be the reason why HCU is able to win. Harris doesn't see a reason for why HCU should have to compromise its values to win. He wants his team to ensure that it constantly maintains a standard of excellence in all that it does.
That includes winning.
"We don't have to compromise who we are to win at a high level. And that's what we want to be at HCU. We want to have values that align ourselves with the mission of the University. But folks, we want to win," Harris said.
Harris' boss, Steve Moniaci, tends to agree.
"The newness of the program, the kids are buying into what we're doing," Moniaci said. "I think coach has held them very accountable and that shows in what they're doing on and off the field."
As Moniaci points out, this is why HCU has a football team. Harris embodies what HCU wants this football program to be.
"The reason we started football is just what coach Harris said in his speech tonight. We want our folks to be proud and part of the conversations on Monday mornings in the Fall. When they go to work, they can talk about how their team did. And hopefully they're talking about how well their team did. And only the football coach can produce that," Moniaci stated.
Now, as the head coach of the Huskies, Harris is charged with guiding HCU football into this new era. As part of that, Harris is tasked with navigating challenges, such as a college football culture that has been altered by the introduction of Name, Image, and Likeness programs and the transfer portal. This era of college football is radically different from what has been seen in years past.
But that doesn't mean HCU can't succeed.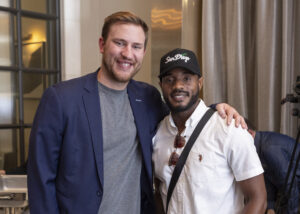 "The challenge that we have is great, but there's hope. And the hope is people," Harris noted. "The hope is you. The hope is our kids. The hope is all of those things."
Harris, Sloan, and Moniaci are looking to ensure that this is a football program that is intertwined with the mission of the University. The purpose of HCU football is to enhance the student experience, empower student-athletes with a world class education founded on a Christian worldview, and advance HCU forward.
The 2023 HCU football season begins Saturday, Sept. 2 at 6 p.m. as the Huskies host Arkansas Baptist. Tickets to the game are available online. And there is still time to pick up 2023 season tickets to support Harris and the Huskies. The Husky Club and its members' generosity are continuing to build the future of HCU Athletics and advance the mission of the University.