Robert B. Sloan, D. d. Theol.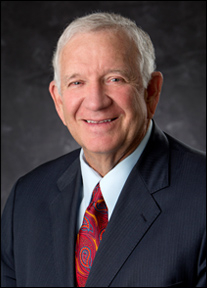 University President: 2006 – Present
Dr. Robert B. Sloan is the president of Houston Christian University and has served in this capacity since September 1, 2006. Under Dr. Sloan's visionary leadership, the University is experiencing unprecedented growth as he and his administrative team continue to implement the goals, or pillars, that began with HCU's twelve-year vision, "The Ten Pillars: Faith and Reason in a Great City", which brought the University through 2020, and continues with "The Ten Pillars 2030 | HCU Vision and Core Convictions."
As of fall 2022, HCU posted a record enrollment for the tenth year in a row, with over 4,200 students enrolled in more than 100 degree programs. As reported by Dr. Sloan, many factors are responsible for this growth, but the most important are the University's faithfulness to its historic Christian mission and its rigorous pursuit of its Ten Pillars vision.
In the fall of 2022, the University completed a multi-year study regarding its name and announced a well-received change from Houston Baptist University to Houston Christian University with the stated goal of growing to 10,000 students.
HCU's emphasis on providing a Christian education of the highest quality has become increasingly visible through numerous recent developments, including the continued growth of its faculty of acclaimed Christian scholars, as well as significant growth in its academic programming. In the fall of 2018, the University launched its College of Engineering, which has now merged with the College of Science and Mathematics to form the College of Science and Engineering. Innovative new undergraduate programs offered through this college include Cyber Engineering, Computer Science, and Electrical Engineering. Other recent changes include the addition of a fourth doctoral program: the Doctor of Ministry (D.Min) with tracks in New Testament Studies and Faith and Culture, which launched in the fall semester of 2022. HCU also has expanded offerings—both graduate and undergraduate—in its Pinky Pampell Online Division, which celebrated its largest enrollment for the sixth consecutive year this past fall.
In the fall of 2016, HCU founded the Houston Theological Seminary in partnership with Second Baptist Church and also launched its first doctoral program, the EdD in Executive Educational Leadership, thus moving to the next level as a national, comprehensive university. Other graduate degree programs implemented during Dr. Sloan's tenure include the Master of Arts in Christian Leadership, Master of Divinity, Master of Arts in Apologetics, Master of Arts in Philosophy, Master of Fine Arts in Screenwriting, Master of Fine Arts in Creative Writing, Master of Arts in Marriage and Family Therapy, Master of Arts in Christian Psychology, Master of Arts in Human Services, Master of Science in Nursing, Master of Science in Kinesiology-Sports Management, Master of Science in Management and Entrepreneurship, and numerous others. Exciting programs for undergraduates include the RN to BSN, Bachelor of Arts in Biblical Studies, Bachelor of Arts in Practical Theology, Bachelor of Arts in Theological Studies, Bachelor of Arts in Narrative Arts, Bachelor of Fine Arts in Animation, and Bachelor of Fine Arts in Video Game Design, Bachelor of Arts in Graphic Design, Bachelor of Science in Electrical Engineering, and Bachelor of Science in Cyber Engineering, as well as many others
Additional changes to the undergraduate academic program under Dr. Sloan's leadership include the launching of an Honors College and the implementation of a strong interdisciplinary Liberal Arts Core Curriculum designed to engage undergraduates with the greatest thinkers, authors, and artists in Western Civilization. As its visibility increases, the Honors College continues to attract outstanding students interested in a quality education that promotes a Christian worldview.
In the fall of 2018, the University announced major gifts from several longtime friends and supporters. A generous gift from Dr. Stewart Morris and The Joella and Stewart Morris Foundation established The Morris Family Center for Law and Liberty and funded construction of a classroom building modeled after Independence Hall. With this gift, Founding Father Stewart Morris and The Morris Foundation are recognized as the largest lifetime donor to the University. This new complex officially opened with a ribbon cutting and dedication ceremony on September 15, 2022 with Dr. Morris and his family, as well as numerous University employees and other guests, in attendance.
Another major gift, from Advisory Trustee Jim Smith Sr. and his wife, Sherry, will fund the renovation and new construction of classroom space and laboratory facilities to be used by the College of Science and Engineering and the School of Nursing and Allied Health. The new building will be named in honor of the Smiths, who have a long family history of supporting HCU and its mission. This is the largest single gift in the history of the University.
During Dr. Sloan's tenure, HCU also announced a generous gift from well-known Christian business executive Archie W. Dunham and his wife, Linda—and the naming of the Archie W. Dunham College of Business. In addition, the University established its McNair Center for Entrepreneurship and Free Enterprise in partnership with the Janice and Robert McNair Foundation.
Other factors contributing to the University's growth and increasing visibility during Dr. Sloan's tenure include HCU's return to full membership status in Division I of the NCAA; the decision to join the Southland Conference and play football; the construction of Dunham Field and Husky Stadium; ongoing implementation of HCU's master plan through its US Highway 59 and Fondren project involving the construction of Belin Tower and Belin Drive, as well as an exciting retail development called The Pillars at HCU; the acquisition of the Bradshaw Fitness Center and the construction of two new buildings—the University Academic Center and the imposing six-story residence facility called the Sadie and Doug Hodo Residence College; the steady growth of HCU's on-campus residential population; and the recent implementation of various student life initiatives to promote student success, including the creation of the Doris and Terry Looper Learning Commons, which houses the Tutoring Center.
All these developments—and many still to come, including plans for additional doctoral programs—reflect the work of Dr. Sloan and his administrative team in implementing the goals in HCU's Ten Pillars vision.
Dr. Sloan serves on the Board of Directors of the Houston Symphony, the Greater Houston Partnership, and the Cullen Trust for Higher Education. He also serves on the Community Relations Committee of Memorial Hermann Healthcare System.
Dr. Sloan has pastored churches throughout Texas and beyond. He is the author of numerous articles, reviews, and other published works, including the first three volumes of a young adult fantasy series (the Hamelin Stoop books). The fourth volume in the series is scheduled for release next year. He has received many prestigious awards and has held membership in a number of professional societies, including the Society of Biblical Literature, the Southwest Biblical Seminar, the National Association of Baptist Professors of Religion, and Studiorum Novi Testamenti Societas.
Dr. Sloan previously served as the president and chancellor of Baylor University, where he was a member of the faculty and the founding dean of George W. Truett Theological Seminary. He graduated cum laude with a Bachelor of Arts degree from Baylor University in 1970; earned the Master of Divinity degree magna cum laude from Princeton Theological Seminary in 1973; conducted post-baccalaureate research at the University of Bristol, England, from 1973 to 1974; and earned the Doktor der Theologie insigni cum laude from the University of Basel, Switzerland, in 1978.
Dr. Robert B. Sloan was born in Coleman, Texas, and grew up in Abilene. He is married to the former Sue Collier of Cisco, Texas. The Sloans have seven children, three daughters-in-law, and four sons-in-law: Charissa and Derrick; Bryan and Amy; Eraina and Bryan; Michael and Ali; Alathea and Justin; Sophie and Mac; and Paul and Meghan. They also have twenty-four grandchildren.
Dr. Sloan blogs regularly about a variety of topics, including the Christian worldview and higher education. Visit Dr. Sloan's website.