Message to The Guild from the President of HCU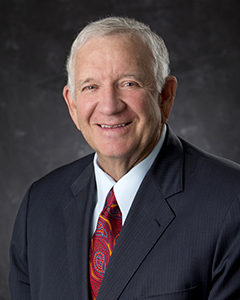 Dear Friends,
Celebrating the grand opening of The Morris Family Center for Law & Liberty is a spectacular way to start this new year! A significant gift from the University's founding father, Dr. Stewart Morris, Sr., led to the construction of this building which is modeled after Independence Hall and will house classes promoting an appreciation of American history and an understanding of our nation's founding principles. Thanks to the funding of the Morris family and support from University friends and Guild members, this long-term dream has become a reality.
Not only has our campus made fantastic strides in its footprint since Sue and I have been here, but the University has also enjoyed record growth in student population, with our alumni now numbering more than 24,700. This progress is also evident in several Firsts recently celebrated by the University:
• the First graduating class of the Engineering Program
• the First graduate of The Doctor of Education in Executive Leadership in Mental Health and Human Services
• the First graduate to complete the Bachelor of Arts to Master of Divinity Program
Much of the University's growth and success is attributable to the unwavering commitment of our dedicated supporters. Through the years, Sue and I have marveled at the steadfastness of our University friends, so faithful to the mission of this Christian University and its central confession that Jesus Christ is Lord. As Guild members, you are a significant part of the realization of this dream that began in the early 1960's … and has blossomed into a thriving University. We thank you for your many years of support, and we look forward to sharing with you many more future successes!
Blessings,
Dr. Robert B. Sloan, Jr.
President
Houston Christian University