Homecoming
October 28
Celebrating 60 years of classes: 1963 – 2023 AND Founding Father, Dr. Morris's 104th Birthday!  Come pack the tent for our Spirit of HCU prior to the Homecoming game on Dunham Field at 2pm.  All the University's colleges and schools will have representatives to network and share the exciting things happening in academics at HCU! Lunch will be served and a spirited program will honor deserving alumni as well as get us ready to cheer on our Huskies at the game! Join us from 10:30am – 1pm on Holcombe Mall for the Spirit of HCU. Homecoming 2023 is not to be missed!  
22nd Annual Husky Hustle

 
The HCU Alumni Association will host its 22nd annual Husky Hustle 5K run. Students, faculty, alumni, and members of the community are welcome to participate in the event. Packet pick up will begin at 6:30pm, the race will begin at 7:30pm.
Register for the Hustle!
Sponsor the Hustle!
Additional opportunities to cheer on the Huskies:
Men's soccer takes on Liberty @ Sorrels Field on 10/26 at 7pm
Women's soccer takes on UIW @ Sorrels Field on 10/27 at 7pm
Volleyball takes on New Orleans on 10/28 at 11am – Dig Pink | Breast Cancer Awareness Match 
We have expanded our schedule for Homecoming day – Saturday, October 28! 
Were you part of a choral group as a student?  If so, join the Choral Reunion that will perform God Bless America at the start of the Spirit of HCU.  Music will be sent to you upon sign-up, and a rehearsal will be held in the Morris Cultural Arts Center on 10/28 9:00-10:30am.  Check-in and a continental breakfast will start at 8:30am in the Morris Center's McNair Hall.  Already signed up for Homecoming but didn't join the choral reunion, email alumniassociation@hc.edu  or call 281.649.3413 to let us know you want to be added.   
Want to share your Husky experience with your legacy?  
Do you have a current high school student in your family – grandchild, son, daughter, sibling, niece or nephew?  The Office of Admission is offering a special tour for legacy families.  Not only will they catch the Husky spirit, but they will also learn about the Alumni Endowed Scholarship program that offers entering freshmen of University graduates the opportunity to apply for an incredible scholarship.  Sign-up now for this special tour opportunity!  
Schedule of Events: 
8:30-10:30am – University Museums open in the Morris Cultural Arts Center | The Dunham Bible Museum, the Museum of American Architecture and Decorative Arts and the Museum of Southern History  
9:30-10:30am – Morris Family Center for Law & Liberty | Take a self-guided audio tour of our very own Independence Hall! (No flight to Philadelphia required!) There's even a photo op with the Liberty Bell!  
9:00-10:30am – Choral Reunion rehearsal in Belin Chapel and then Dunham Theater to rehearse with the Husky Band! 
10:00-11:00am – Admissions tour for high school students of alumni families!  
10:00am–2:00pm – The University Bookstore will be open. Be sure to ask for your 20% alumni discount! 
10:30am – Check-in begins on Holcombe Mall | Pick-up your name badge and game ticket! 
10:30-11:30am – Gathering of Colleges & Schools: Representatives from each college and school will be in attendance under the tent on Holcombe Mall to fellowship and network with alumni, students, and their guests. 
11:00am – Lunch service begins  
11:30am – Spirit of HCU program 
1:00pm – Alumni only! – Gathering of Graduates on Dunham Field at Husky Stadium to honor Dr. Stewart Morris, Sr., Founding Father of Houston Christian University, on his 104th Birthday!  
Everyone… Once we have sung, "Happy Birthday!" to Dr. Morris, birthday cupcakes will be served under the tent on the berm (hill | north end zone side).  The HCU Alumni Association Advisory Board is providing inflatables – for children young and not so young – to add to the celebratory atmosphere!  
2:00pm – Kick-off … HCU Huskies take on the Texas A&M – Commerce Lions  
Last but not least … We are always asked, "What do I wear?" Wear your best orange and blue!  Vintage items, new items … as long as they are orange and blue and show your Husky spirit, they are perfect!  (Alumni going on Dunham Field for the Gathering of Graduates – no high heels! You will lose major husky points if you poke holes in the new turf! Wedges, flats, and athletic shoes are all good choices.) Be sure to dress for the weather as most events are outdoors. Want to pick-up something new?  The University Bookstore will be open 10am-2pm.   
Any other questions or concerns, contact us in Alumni Relations: alumniassociation@hc.edu or 281.649.3413.  
See Who Will Be At Homecoming!
Don't miss out on reuniting with fellow Huskies!
#HCUHOMECOMING #HUSKYHOMECOMING2023
Coming from out of town and need a place to stay?
Town Place Suites is a Proud Sponsor of HCU Athletics and offers an HCU Discount rate.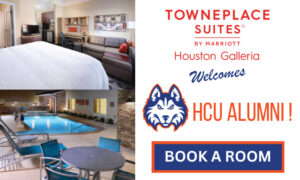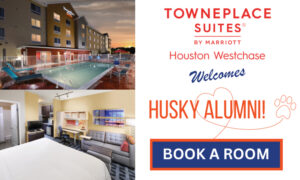 Hyatt Place Sugar Land has a HCU discounted
Courtesy Social Group Rate
1. Use this link:
2. Click Book Now
3. Enter the dates for your stay
4. Select your room and book
Please be aware that the code must be booked by October 17!

Other options available:https://hc.edu/admissions/area-hotels/ 

Photo Gallery