Alumni Endowed Scholarship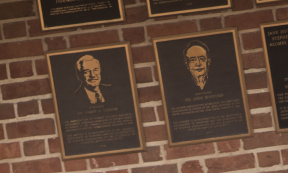 The HCU Alumni Association currently has seven endowed scholarships. Scholarships are awarded each year to incoming freshmen who meet all requirements and qualifications. The Alumni Association Advisory Board – Scholarship Committee selects these recipients, and they are excited to support these individuals who will be carrying on the family tradition of attending Houston Christian University.
Scholarships within the Alumni Endowed Scholarship Program
Dr. Gene Wofford Endowed Scholarship
Dr. James S. Taylor Endowed Scholarship
Margaret S. Hudson Endowed Scholarship
Wanda E. Hudson Endowed Scholarship
Jane Jester '68 and Stephen Andrew Marmion Endowed Scholarship
Dr. Doris Corpier Warren Endowed Scholarship
The 1967-1970 Founding Classes of Houston Baptist College Alumni Endowed Scholarship
If awarded this scholarship applicants will be required to meet the following requirements:
The recipient must be admitted to Houston Christian University by Friday, April 7, 2023
The recipient must maintain a GPA of 3.0 to be eligible for the Alumni Endowed Scholarship.
The recipient must have full-time enrollment of 12 hours or more per semester (September-May) for four successive school years as well as successful completion of each and every course for credit each semester.
Recipients will be required to attend certain functions during the year as specified by the Office of Alumni Relations, in conjunction with the Alumni Association Advisory Board. This includes but is not limited to the Spirit of HCU Dinner, Endowed Scholarship Receptions, Quarterly Alumni Association Advisory Board meetings, and select events throughout the year.
Recipients are required to sign a media release, allowing Houston Christian University to use a photo and personal information such as name, hometown and major in print and / or online.
*Scholarship can only be applied to tuition costs
To apply for this scholarship, the following items are needed:
Personal Resume attached to application submission, including all school clubs and organizations, church work and community activities in which you have been involved. Also, list any honors, awards or academic achievements.
Two page, double-spaced essay attached to application submission.  This essay should explain why you are applying for this scholarship and why you want to attend HCU.
Three letters of recommendation* emailed or mailed directly to the Alumni Office from the following individuals:
– Alumni Relative (who holds a degree from the University)
– Teacher OR school administrator
– Non-relative person who knows you well (e.g. Church Pastor or Youth Minister)
*Emailed recommendations must be sent by the representative (not the student) to alumniassociation@hbu.edu
*Email or Mailing address for all letters of recommendation:
Office of Alumni Relations | 7502 Fondren Road | Houston, TX | 77074
alumniassociation@hbu.edu
All applications must be postmarked by Friday, March 24, 2023. The Alumni Scholarship Committee reviews all scholarship applicants who have been accepted to the University by April 7, 2023 and then conducts interviews before awarding the scholarship by mid-May.
Apply now